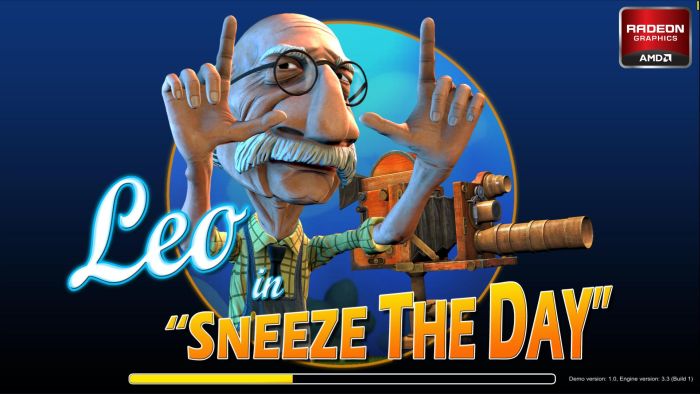 AMD has released a
Direct3D 11
tech-demo to showcase the performance of
Radeon HD 7900 series
. This tech-demo is based on a (home-made?) engine in version 3.3 (build 1). Seems AMD ditched the Trinigy engine used in the previous
HK2207
tech-demo. This D3D11 demo uses
Bullet
for physics and
Fmod
for the sound.
The Leo demo showcases a real-time, DirectX® 11 based lighting pipeline that is designed to allow for rendering scenes made of arbitrarily complex materials (including transparencies), multiple lighting models, and minimal restrictions on the number of lights that can be used — all while supporting hardware MSAA and efficient memory usage.

Specifically, this demo uses DirectCompute to cull and manage lights in a scene. The end result is a per-pixel or per-tile list of lights that forward-render based shaders use for lighting each pixel. This technique also allows for adding one bounce global illumination effects by spawning virtual point light sources where light strikes a surface. Finally, the lighting in this demo is physically based in that it is fully HDR and the material and reflection models take advantage of the ALU power of the AMD Radeon HD 7900 GPU to calculate physically accurate light and surface interactions (multiple BRDF equations, realistic use of index of refraction, absorption based on wavelength for metals, etc).
You can download the demo from this page (an account is required).
I tested this 740MB demo on two Radeon HD 6970 in CrossFire with an average framerate of 40 FPS. With one HD 6970, the FPS was around 20.
Hi-resolution pictures of the demo can be found here: AMD HD7900 Direct3D 11 Leo tech demo – (17 pictures total).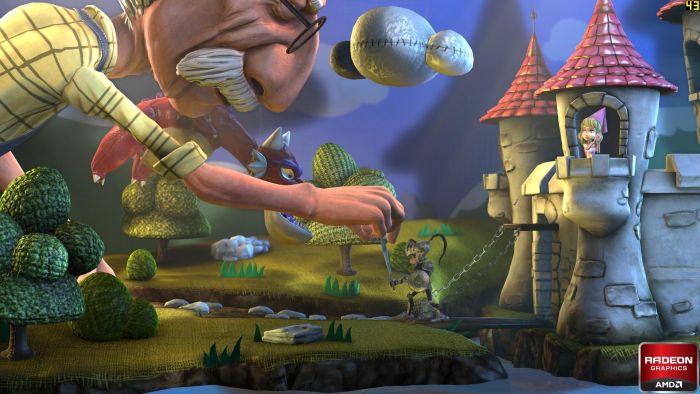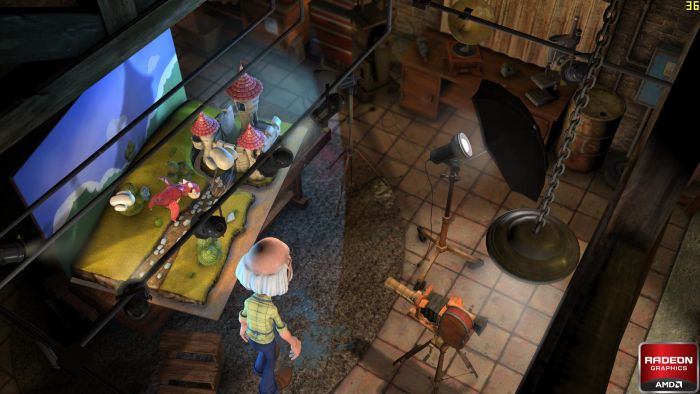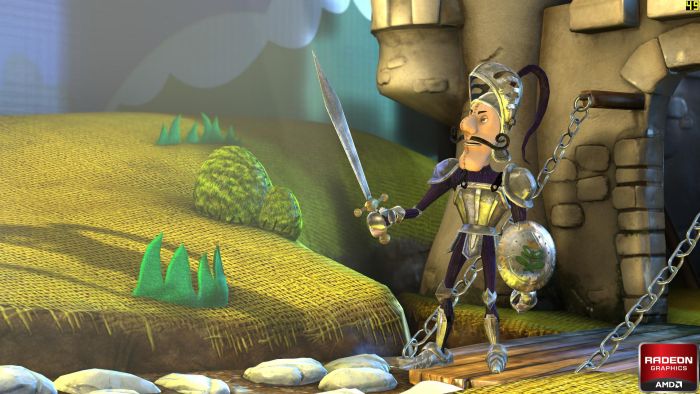 This demo is much better than the previous tech-demo for HD 6900 series. But there are still parts that lack of something to be really cool. In the following screeny, the contact between Leo's feet and the ground is not realistic. A touch of AO (ambient occlusion) or/and a bit of shadowing can improve the rendering…

Source: Geeks3D forum