I'm currently working on some cool stuff under Linux
Mint 10
(64-bit). I like this distro because it works fine for my needs (virtual screens, transparent terminals, gnome 2!). But the NVIDIA driver recommended and installed with Mint 10 is an old driver:
R260
family. Then installing the latest driver can be a good option especially is you need latest features such as
OpenGL 4.2
or just to support latest cards like the
GeForce GTX 560 Ti 448 cores
. Currently the latest NVIDIA driver is the
R290.10
.
Ok that said, let's see how to install NVIDIA's latest graphics driver:
1 – Download the driver from NVIDIA: R290.10 64-bit. Driver's filename looks like to
NVIDIA-Linux-x86_64-290.10.run. I saved the file at the root of my home directory.
2 – To install the driver, the X-server must be stopped. All operations must be executed from the command line (virtual console). Fortunately, only few operations are required. To open the first virtual console, type [Ctrl]+[Alt]+[F1]. There are six virtual consoles and any console from F1 to F6 is ok. Once the console it opened, enter your login. Now you can stop the X-server with:


sudo /etc/init.d/gdm stop


This command is better:


sudo stop gdm


The following command can also help:


sudo killall Xorg


3 – Now you can install the driver:


sudo sh NVIDIA-Linux-x86_64-290.10.run



The driver proposes to update the X-server configuration file (xorg.conf). You can accept it (I did).


4 – The last operation to do: reboot the system. Just type:


sudo reboot

Now you should enjoy the latest NVIDIA driver with OpenGL 4.2 support: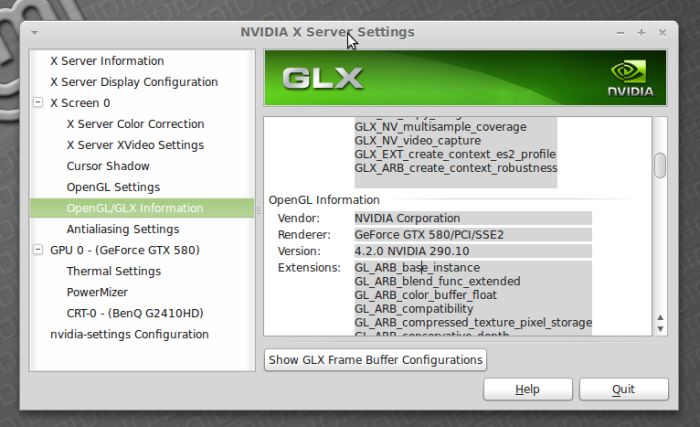 ---
UPDATE: important note for developers: the graphics driver update breaks the symbolic link on the OpenGL lib. When you try to compile an OpenGL app, you get this message:

/usr/bin/ld: cannot find -lGL

To fix the link, jump to the libraries folder:

cd /usr/lib

If needed (because the ln command fails), delete the broken link:

sudo rm libGL.so

Now we can recreate the link with ln:

sudo ln -s libGL.so.1 libGL.so

---