AMD has released the December 2011 edition of its WHQL-certified graphics drivers for Radeon based graphics cards. Good news for OpenGL developers: Catalyst 11.12 comes with an official support of OpenGL 4.2.
Catalyst 11.12 Desktop Downloads:
Catalyst 11.12 Mobility Downloads:
Catalyst 11.12 Linux Downloads:

The main new features of Catalyst 11.12 are:
AMD OpenGL 4.2 production support: AMD Catalyst 11.12 delivers official support for the OpenGL 4.2 specification.
AMD Eyefinity technology enhancements: Enables support for AMD HD3D technology when using a 3×1 Landscape Eyefinity display group, on supported DisplayPort 3D monitors.
AMD Vision Engine Control Center enhancements for Dual Graphics: Improvements have been implemented to better facilitate the enabling and control of the Dual Graphics within the Vision Engine Control Center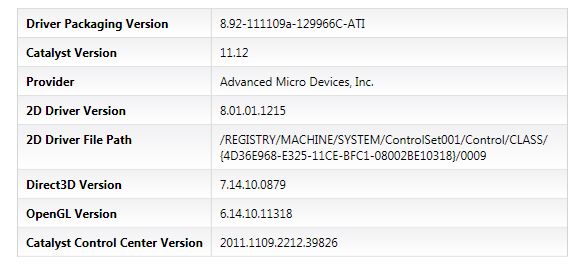 Catalyst 11.12 exposes 232 OpenGL extensions (GL=211 and WGL=21) and the OpenGL version is: 4.2.11318. Compared to Cat 11.11 WHQL, Cat 11.12 introduces these new OpenGL extensions:
GL_ARB_base_instance
GL_ARB_conservative_depth
GL_ARB_internalformat_query
GL_ARB_map_buffer_alignment
GL_ARB_shader_atomic_counters
GL_ARB_shader_image_load_store
GL_ARB_shading_language_420pack
GL_ARB_shading_language_packing
GL_ARB_texture_storage
GL_ARB_transform_feedback_instanced
GL_EXT_texture_storage
WGL_EXT_swap_control_tear
But compared to Cat 11.10 Preview 3, Cat 11.12 does not expose new extension, Cat 11.10 Preview 3 being already an OpenGL 4.2 driver but in a beta version.