I just found in ShaderToy this really cool GLSL pixel shader of a procedural apple coded by iq (respect!). This apple demo seems to be a recent addition to ShaderToy code base.
For those who are interested, I ported the demo to GeeXLab and slightly modified the GLSL shader to use GeeXLab's camera position in order to rotate around the apple with the mouse. And GeeXLab's live coding feature makes it easy to tweak the GLSL code and instantly get the feedback. A great way to hack, learn and understand iq's shader: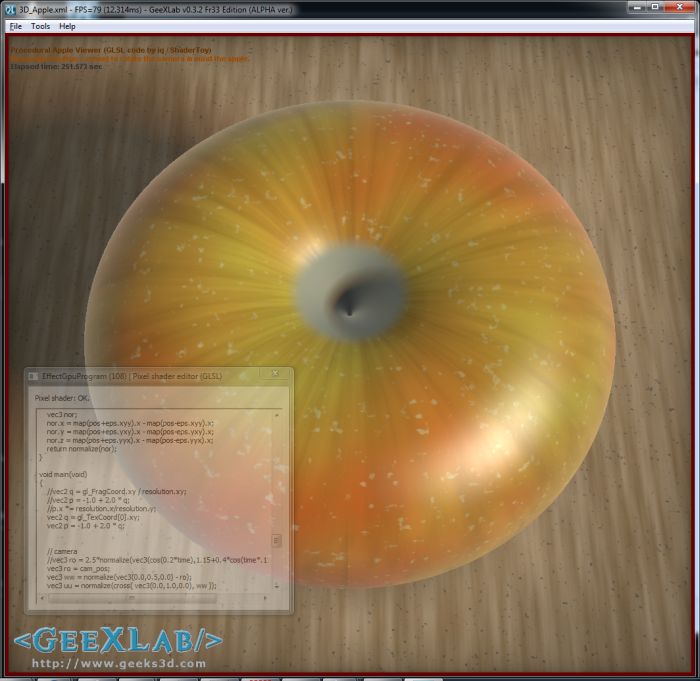 Quick test. Default settings: 512×512 windowed mode (then no SLI or CF support!)
Max FPS: 555 – SAPPHIRE Radeon HD 6970


Max FPS: 450 FPS – EVGA GTX 580 SC


Max FPS: 340 – SAPPHIRE Radeon HD 6870




The GeeXLab demo is available in the GLSL_Procedural_Apple/ folder of GeeXLab code sample pack:
[download#40#image]

This demo requires GeeXLab 0.3.2+.

How to run the demo: start GeeXLab and drop the demo file (3D_Apple.xml) in GeeXLab. That's all.