This maintenance release of GPU Caps Viewer fixes a bug with systems that include an integrated Intel GPU (first GPU) and a discrete GPU (GeForce, Radeon) as second GPU. This situation is common on some recent laptops.
Download
You can download GPU Caps Viewer 1.14.4 here:
Webmasters: hotlinking is not allowed (that will cause an error message), please use the post url as download link.


Win32 installer:
[download#255#image]

Zip archive (no installation required):
[download#256#image]
I tested and debugged GPU Caps Viewer on a system made up of a H67 motherboard from GIGABYTE, an Intel Sandy Bridge i5 2400 CPU/GPU (primary GPU) and a MSI GeForce 9600 GT (secondary GPU) plugged on the first PCI-E slot.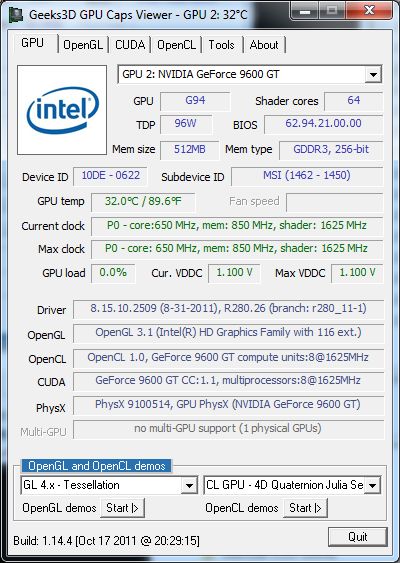 With the previous version of GPU Caps Viewer, the information of the first GPU was also displayed for the second GPU.
What is GPU Caps Viewer?
GPU Caps Viewer is a graphics card information utility focused on the OpenGL, OpenCL and CUDA API level support of the main (primary) graphics card. Even if you have several graphics cards in your system, only one is considered as the main OpenGL or Direct3D device. For OpenCL and CUDA, GPU Caps Viewer details the API support of each capable device available in the system. GPU Caps Viewer offers also a simple GPU monitoring facility (clock speed, temperature, GPU usage, fan speed) for NVIDIA GeForce and AMD Radeon based graphics cards.
Changelog
Bugfix: GeForce/Radeon cards information was not correctly displayed on the first panel when the first GPU was not a GeForce or a Radeon one (an Intel for example).
Change: Julia 4D OpenCL kernel updated (see Geeks3D forums)