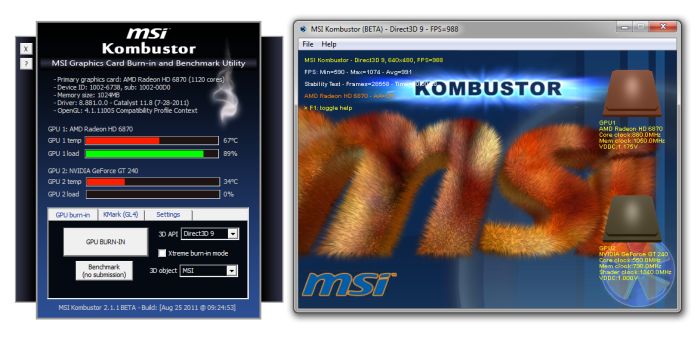 A new beta version of MSI Kombustor is available for testing. Kombustor is MSI's GPU stress test and benchmarking utility. The GPU stress test is based on FurMark technology and is available in OpenGL and Direct3D. Kombustor 2.1.1 is the first public version of the 2.1.x branch and prepares the path to the 2.2.x branch that will be available with new OpenGL and Direct3D benchmarks modules.
The new features of Kombustor 2.1.1 are a new user interface (skin), a GPU thermometer and loadmeter (for the first two GPUs of the system) in the user interface, and new furry objects for the burn-in module. KMark, Kombustor's first OpenGL 4 benchmark, has been updated with latest PhysX SDK 2.8.4.6.
---

*** MSI Kombustor 2.2.0 beta available! ***

---
You can download MSI Kombustor 2.1.1 Beta here:
[download#247#image]
You can post your feedbacks or bug reports in this thread (Guru3D forum) or in this post.
Complete changelog:
New: added simple GPU thermometer and loadmeter in the user interface.
New: main interface fully changed. Ready for upcomming benchmarks.
New: added support of recent NVIDIA GeForce and AMD Radeon cards.
New: added new 3D objects (sphere, torus, box, HD6970) in the burn-in test module
Update: compiled with latest PhysX SDK 2.8.4.6
Update: compiled with latest ZoomGPU 1.15.30