A new version of OC Scanner, EVGA's GPU stress test utility and artifact scanner is available. Like EVGA Precision, OC Scanner is now available for all GeForce cards, no matter the vendor. Other new stuff, the skin. I did my first skinning tests with the version 1.7.0. The skinning system is not perfect but it works and is quite fast.
OC Scanner brings new auxiliary modules (AUX-Mod) to make your life a bit easier:
NV-Z 0.1.0: like GPU-Z, NV-Z is GPU information utility. NV-Z works with NVIDIA cards only.
CPU burner: CPU burner is a multithreaded CPU burner. You can select the number of threads you want and you're ready to burn the CPU. In short CPU burner is used to add a constant load on the CPU.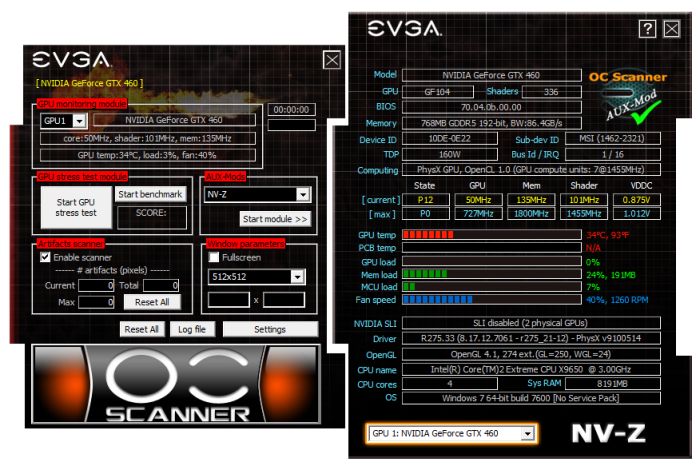 EVGA NV-Z 0.1.0
Want to see OC Scanner in action? Just read this overclocking test: EVGA GeForce GTX 580 Superclocked GPU Overclocking Session.
OC Scanner 1.7.0 changelog:
Added support for GeForce 405, GT 520, GT 530, GT 545 and GTX 560.
Added new auxiliary module: NV-Z.
Added new auxiliary module: multithreaded CPU burner.
The position of OC Scanner main interface is saved and used for the next launch.
Improved the readability of On Screen Information.
Added GPU load in the GPU monitoring module.
Added a warm up phase at the beginning of the benchmark.
Changes in the main interface (skin).
The GPU load limiter is enabled by default for high end GTX 500 only (GTX 590, 580 and 570).
Default value for artifact scanning period set to 500ms.
Internal 3D lib updated, refactorized. Ready for future modules.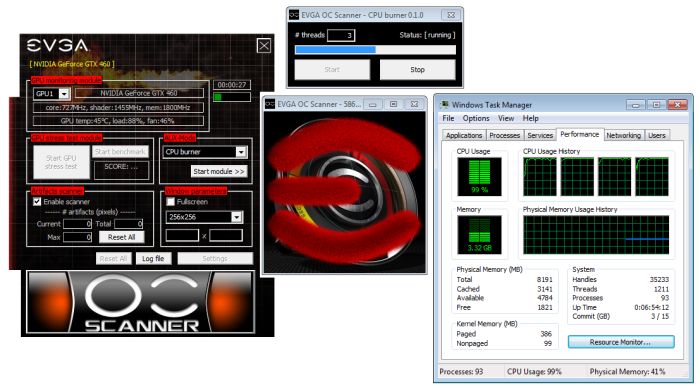 OC Scanner multithreaded CPU burner built-in module
As usual,
you must has a registered EVGA card to be able to download
OC Scanner
.