ASUS ROG MATRIX GTX 580 review index
6 – ASUS ROG MATRIX GTX 580: GPU Tweak Utility
GPU Tweak is ASUS's new graphics card information and overclocking utility. GPU Tweak comes with a nice skin. This skin is really cool but we feel it's heavy: the tool doesn't react quickly when you move it on the screen and doesn't update itseff properly (regularly you see the residues of other apps). That's why I prefer utilities without skin or with a very mininal skining system: the utility must be light and fast. One solution coule be to have two version of the tool: one with the skin and one without…
GPU Tweak is really complete when it comes to GPU information and tweaking. All temperatures (GPU, memory, power MOSFETs –VRM, board), clock speeds (GPU, memory), voltages (GPU, memory, PLL) and fan speeds (speeds of both fans) are displayed. And you can modify every clock or voltage.
The graph window is not as convenient as MSI Afterburner one because you can't resize it (because of the… skining!). And I need to resize it to keep an eye on the GPU temperature from the begining of the stress test until the end when the GPU temp reaches again its idle value.
Once ASUS will have improved the interface promptness and the graph window resizing (as well as some sensors values that are not properly updated), GPU Tweak could become the utltimate GPU OC tool!
And guess what? GPU Tweak is not limited to ASUS cards. I tested it with an EVGA GTX 580 and it works fine:

A special version of GPU-Z is embedded in GPU Tweak. To launch it, just click on the Info button:

Here are the different panels available when you click on the Settings button: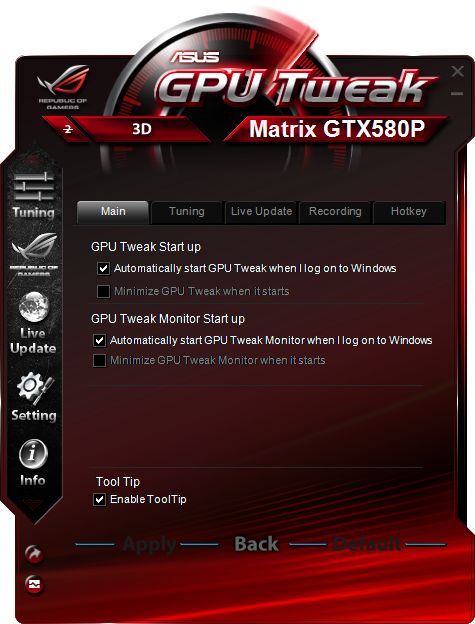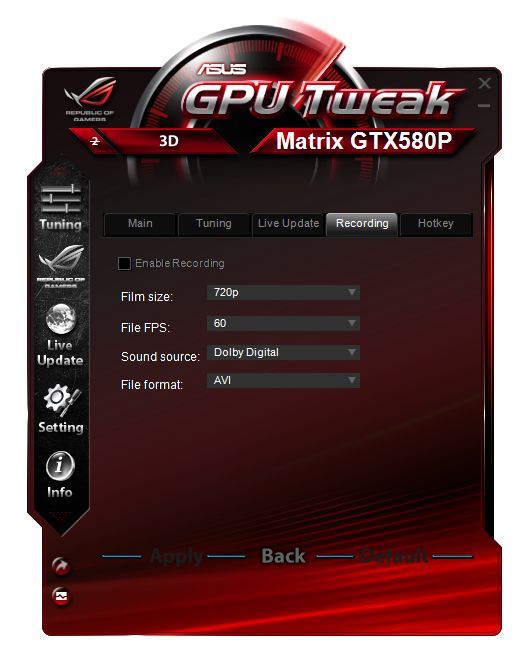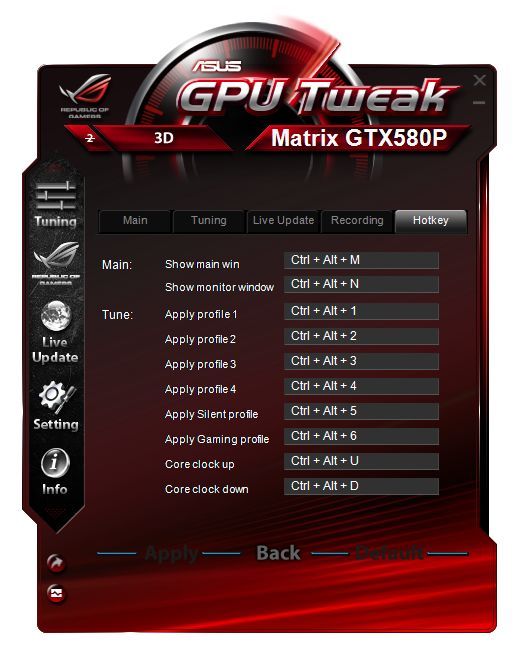 ASUS ROG MATRIX GTX 580 review index