ASUS ROG MATRIX GTX 580 review index
11 – ASUS ROG MATRIX GTX 580: Conclusion
No doubt, ASUS's ROG MATRIX GTX 580 Platinum is a great graphics card for overclockers. It comes with many features such as ProbeIt (voltage check points), ModZone (for LN2 overclockers), TweakIt (100% fan speed, GPU voltage), a customized PCB and VGA cooler, power connectors LEDs, and the Safe Mode button that can restore default settings in case of bad overclocking. The GPU load indicator is certainly the geekiest gadget of the card even if I didn't manage to see the color of the idle state (maybe a BIOS update could fix the problem).
The strong 19-phase VRM allows to overclock the card without fear, because you know that the power circuitry will handle the load. I was really impressed by the FurMark burn-in test close to the 375W. I managed to overclock my MATRIX sample at 926MHz (+13% compared to the factory setting and +20% compared to NVIDIA reference clock) and I used this overclocking setting for the complete review.
The triple slot VGA cooler, DirectCU II Matrix (bulky as hell), gives a dynamic and aggressive look at the card. But under FurMark, this massive cooler is a bit noisy (fan speed: auto) and doesn't prevent the GPU temperature to exceed 90°C. But FurMark is an extreme test (it's a stress test after all!) and under all other applications (games or synthetic benchmarks) the GPU temperature was under or around 70°C.
The card comes with 1.5GB of graphics memory while competitors' high-end cards come with 3GB of memory (EVGA, MSI)…
In the software side, GPU Tweak is a nice and very complete overclocking utility. The few little problems (interface, update) should vanish with the next versions.
The MATRIX GTX 580 should be priced at US $530.
I can't wait to see some LN2 overclockers pushing this card to the max like HERE.
Pros:
– No hardware power limiter
– Factory-overclocked @ 816Mhz
– Hand-overclocked at 926MHz
– Very good overclocking capabilities
– High quality components and FurMark approved VRM!
– High performance cooling (DirectCU II)
– Quiet cooling under typical gaming
– Very good tessellation performance (OpenGL 4 and Direct3D 11)
– PhysX and CUDA support
– Power connectors LEDs (rear side)
– ProbeIt, TweakIt, ModZone
– Safe mode
– GPU load indicator
– Backplate
– GPU Tweak overclocking utility (new tool on the market, not limited to ASUS)
– Triple temperature monitoring in GPU Tweak: GPU / memory / VRM
Cons:
– Bulky card (three slots)
– Cooler a bit noisy under heavy load
– High GPU and VRM (MOSFETs) temperatures in the FurMark burn-in test
– 1.5GB of graphics memory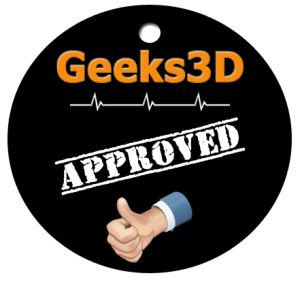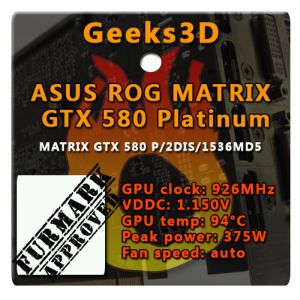 I'd like to thank Roland from ASUS for the sample review
ASUS ROG MATRIX GTX 580 review index