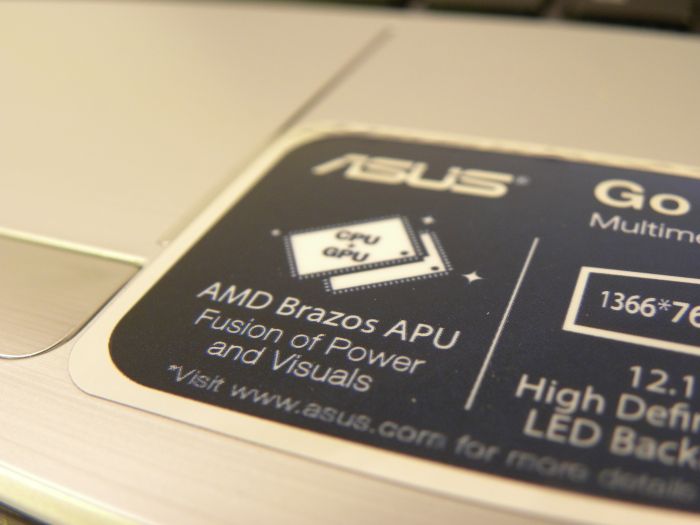 ASUS Eee PC 1215B Netbook review index
1 – ASUS Eee PC 1215B: Overview
ASUS's Eee PC 1215B is a new netbook equipped with AMD's Brazos APU (APU = Accelerated Processing Unit). An APU combines a northbridge, a CPU and a GPU on the same chip.
Brazos is the name of the current family of AMD APUs. The Brazos family currently includes two sub-familes: Ontario and Zaccate. In short, Zaccate is more powerful than Ontario, just look at the TDP: 18W for Zaccate and 9W for Ontario.
The Eee PC 1215B tested in this review features an AMD Fusion C-50 APU (Ontario family –the Zaccate family including the Fusion E-350 APU). The Fusion C-50 APU of ASUS Eee PC 1215B combines an AMD C-50 CPU (clocked at 1000MHz) (dual-core CPU) and a Radeon HD 6250 GPU (Direct3D 11 GPU) on the same piece of silicon.
More details on AMD APUs can be found HERE and HERE.
Here are the features of ASUS's Eee PC 1215B:
– AMD Fusion APU C50 1.0GHz (dual core)
– 2GB DDR3 memory
– Radeon HD 6250 (included in the APU)
– a 250GB SATA HDD (2.5″)
– WIFI support (WLAN 802.11 a/b/g/n @ 2.4GHz),
– 12.1-inch LED screen
– 0.3 MPixel camera
– Stereo speakers
– VGA, USB, HDMI and Ethernet RJ45 connectors
– Weight: 1.45 Kg (without the battery)
– Battery: 6-cell 56Wh Li-ion battery
– Operating system: Windows 7 Home Premium, 64-bit
About ASUS


ASUS, the world's top 3 consumer notebook vendor and the maker of the world's best-selling and most award winning motherboards, is a leading enterprise in the new digital era. ASUS designs and manufactures products that perfectly meet the needs of today's digital home, office and person, with a broad portfolio that includes motherboards, graphics cards, optical drives, displays, desktops, Eee Box and all-in-one PCs, notebooks, netbooks, tablet devices, servers, multimedia and wireless solutions, networking devices, and mobile phones.
Driven by innovation and committed to quality, ASUS won 3,398 awards in 2010, and is widely credited with revolutionizing the PC industry with the Eee PC™. With a global staff of more than 10,000 and a world-class R&D team of 3,000 engineers, the company's revenue for 2010 was around US$10.1 billion.
ASUS Eee PC 1215B Netbook review index