Thermaltake Toughpower Grand 850W review index
3 – Toughpower Grand 850W: Specifications
Color: black
MTBF: 120,000 hrs minimum
Operating Temperature: 10°C to +50°C
Compliance with Intel ATX 12V 2.3 & SSI EPS 12V 2.92 standards.
Peak output capacity: 950W
Max. output capacity: 850W
Input current: max. 11A
Dimensions: 150mm(W) x 86mm(H) x 180mm(D)
80 PLUS Gold certified – with 87-93% extreme high efficiency @ 20-100% load to cut down electric cost.
24/7 @ 50oC: Guaranteed to deliver 850W continuous power.
Input Voltage: 100 VAC – 240 VAC
Input frequency range: 50Hz ~ 60Hz
Pure aesthetic design with uncompromising performance.
Proprietary dual ball bearing 14cm flower-shape fan enables longer lifespan and lowers overall noise output by dramatically reducing bearing frictions.
100% 105oC (221oF) Japanese made electrolytic & solid state capacitors: provide uncompromised performance and reliability under the harshest operating environment.
Double-forward switching circuitry: offers low power loss and high reliability.
Unparalleled DC to DC converter provides highest efficiency, most stable performance, and perfect regulation.
3oz PCB design reduces heat generation and allows greater efficiency.
Robust & dedicated +12V output: comes with single +12V rail design providing up to 71A.
Cooling System: 14cm dual ball bearing Fan: 1900RPM ± 10%
FanDelayCool Technology allows 14cm fan to continue to operate 15-30 sec after system shuts-down to ensure all components are properly cooled.
Multi-GPU ready: comes with 6 x PCI-E 6+2pin for cutting-edge gaming machine.
Auto switching circuitry for universal AC input from 90-264V.
Active Power Factor Correction (PFC) with PF value of 0.95 at full load.
High reliability: MTBF>120,000 hours.
DIMENSION: 5.9"(W) x 3.4"(H) x ?7.1" (L);150mm(W) x 86mm(H) x 180mm(L)
Built-in industry grade protections: Over Current, Over Power, Over Voltage, Under Voltage, Over Temperature and Short-Circuit protection.
Safety / EMI Approvals: CE, TUV, FCC, UL, CUL, GOST and BSMI certified.
Efficiency Factor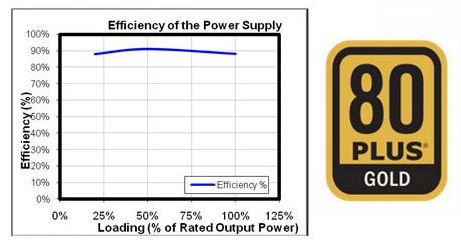 Grand 850W is a 80% Plus Gold certified PSU. The
efficiency factor
traduces the losses of the PSU: the input power (at the wall outlet) is always greater than the output power due to the PSU losses. The PSU efficiency curve show the Grand 850W has an average
efficiency factor of 0.9
in the range of 25-100%. I will use this value (0.9) in my tests to approximate the power delivery by the PSU.
Under 20-25%, the efficiency is low, that's why it's not recommended to use a 1000W PSU with a system that is able to pull only 200W. A good use of the PSU is in the range 30 to 90%.
The PSU uses high quality Japanese made components (electrolytic and solid capacitors):

Additional details can be found on Toughpower Grand 850W homepage.
Thermaltake Toughpower Grand 850W review index