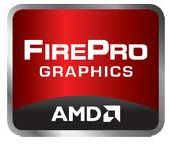 AMD FirePro V7900 has joined the family of AMD professional graphics cards. This new FirePro card is based on the third generation of 40nm GPU (formerly codenamed Cayman – what is the new codename?). This GPU features 1280 SP (Stream Processors) and 2048MB of GDDR5 memory.
A Radeon HD 6970 (Cayman) has 1536 SP, while a HD 6950 (Cayman) has 1408 SP. The difference between HD 6970 and HD 6950 is 128 SP or 2 SIMDs (one SIMD = 64 SP). The same kind of difference exists between the HD 6950 GPU and FirePro V7900 GPU: 1536-1280 = 128 = 2 SIMDs. At first approach, you can consider the V7900 like a limited version of HD 6950.
Of course some features like frame lock (synchronization of color buffer swaps across multiple systems) are not supported by AMD gaming cards. One other cool feature I'd like to test one day is the CrossFire Pro that makes it possible to enable CrossFire support for windowed applications. With gaming cards, CrossFire is only supported in fullscreen mode.
The V7900 supports OpenGL 4.1, Direct3D 11 and OpenCL 1.1. The VGA cooler takes only one slot and the TDP (thermal design power) is 150W. The PCB embarks one additional 6-pin power connector.
AMD FirePro professional graphics have been engineered to deliver innovation and reliability for a wide range of professional operating environments, including Windows® 7, Windows XP, Windows Vista and Linux. The unifi ed driver, which supports all
AMD FirePro workstation products, helps reduce the total cost of ownership by simplifying installation, deployment and maintenance.

New for this generation of AMD FirePro products is AMD Powertune technology. This state-of-the-art power management technology provides direct control over GPU power usage. Applications enjoy ultimate performance with dynamic clock optimization, while keeping your workstation energy-conscious and helping to conserve electricity when it isn't needed.

In addition, AMD FirePro products incorporate AMD's unique AutoDetect technology. As users open new 3D applications, or move between them, optimized AMD FirePro graphics driver settings are automatically confi gured for maximum performance, no matter what the user's workfl ow demands.

Also new for this generation of AMD FirePro products is GeometryBoost technology. GeometryBoost is a unique hardware capability that processes two primitives per clock cycle. What this means is incredibly fast geometry performance, ensuring smooth handling of complex models.
More details about the FirePro V7900 are available in the datasheet HERE.