The May 2011 edition of
AMD Catalyst display drivers
is available. The main feature is some enhancements in Hydravision for Eyefinity configurations. You can download Cat 11.5 WHQL here:
You can find all other downloads related to Catalyst drivers HERE and release notes HERE.


Cat 11.5 WHQL CCC info
Catalyst 11.5 WHQL exposes 216 OpenGL extensions. See this post for the complete list: AMD Catalyst 11.1 Hotfix.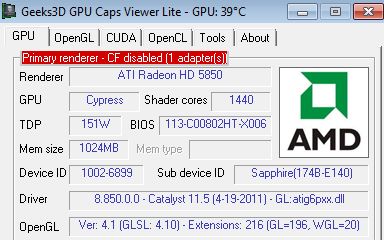 Other Cat 11.5 WHQL details from GPU Caps Viewer:
– Drivers Version:
8.850.0.0 – Catalyst 11.5 (4-19-2011)
– GL:atig6pxx.dll
– ATI Catalyst Version String: 11.5
– ATI Catalyst Release Version String: 8.85-110419a-118230C-ATI
– OpenGL Version:
4.1.10750
Compatibility Profile/Debug Context
– OpenGL Extensions:
216 extensions (GL=196 and WGL=20)
–
OpenCL 1.1 AMD-APP-SDK-v2.4 (595.10)
– CL_DRIVER_VERSION: CAL 1.4.1385 (VM)
Catalyst 11.5 WHQL is followed by the Catalyst 11.5 hotfix that brings bugfixes related to video transcoding (H.264 to MPEG2) and HD 6600 series with Direct3D 9 applications.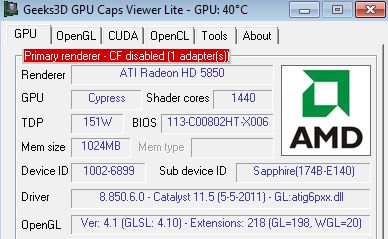 Cat 11.5 hotfix brings two new OpenGL extensions:
Other Cat 11.5 hotfix details from GPU Caps Viewer:
– Drivers Version: 8.850.6.0 – Catalyst 11.5 (5-5-2011) – GL:atig6pxx.dll
– ATI Catalyst Version String: 11.5
– ATI Catalyst Release Version String: 8.85.6-110505a-118668E
– OpenGL Version: 4.1.10758 Compatibility Profile/Debug Context
– OpenGL Extensions: 218 extensions (GL=198 and WGL=20)
– OpenCL 1.1 AMD-APP-SDK-v2.4 (595.10)
– CL_DRIVER_VERSION: CAL 1.4.1385 (VM)

Cat 11.5 hotfix CCC info
And to end up this post, the crash of CCC during the install of Cat 11.5 WHQL and Cat 11.5 hotfix 😀