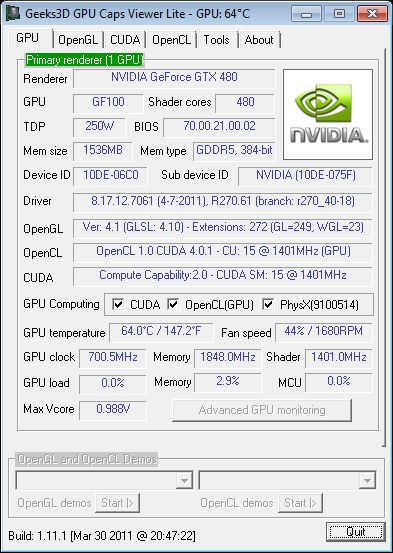 GPU Caps Viewer Lite (GPU Toolkit 0.2.0), R270.61 + GTX 480
NVIDIA has just published the first WHQL-certified driver from the Release 270 family (R270.xx to R274.xx). The R270.61 driver supports GeForce 6, 7, 8, 9, 100, 200, 300, 400, and 500-series desktop GPUs as well as ION desktop GPUs.
This driver increases the performances for GeForce 400 Series and 500 Series GPUs in several PC games compared to R266.58 and depending on the game, you can see a gain up to 516% (Dragon Age 2, SLI 2560×1600 8xAA/16xAF Very High, SSAO on) 😉
R270.61 is an OpenGL 4.1 driver (GeForce GTX 400 and GTX 500) and an OpenGL 3.3 driver for other GeForce cards. For the complete list of OpenGL extensions, visit this post.
R270.61 is based on a new R270_40-18 branch.
R270.61 WHQL Downloads