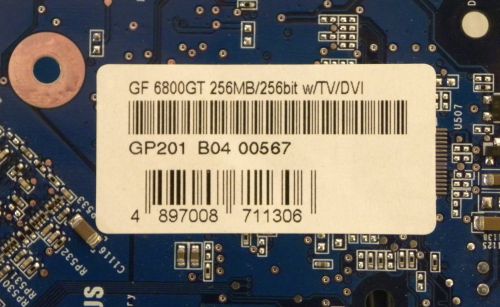 This is an useless test, but I had the oppotunity to quickly test the latest R270.51 with a GeForce 6 card (AGP) in order to verify if latest NV drivers still support older cards:
This driver package supports GeForce 6, 7, 8, 9, 100, 200, 300, 400, and 500-series desktop GPUs as well as ION desktop GPUs.
I tested R270.51 with a GeForce 6800 GT under WinXP 32-bit: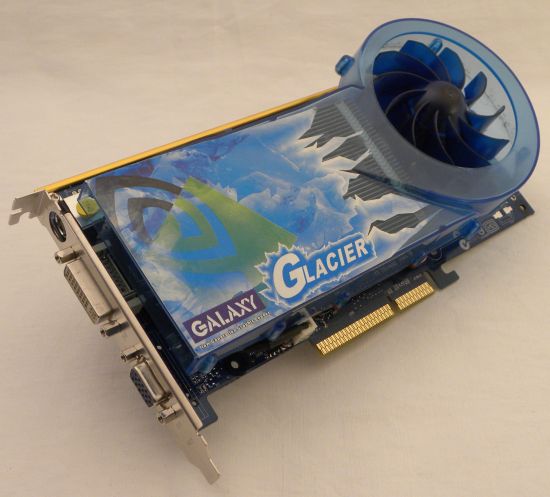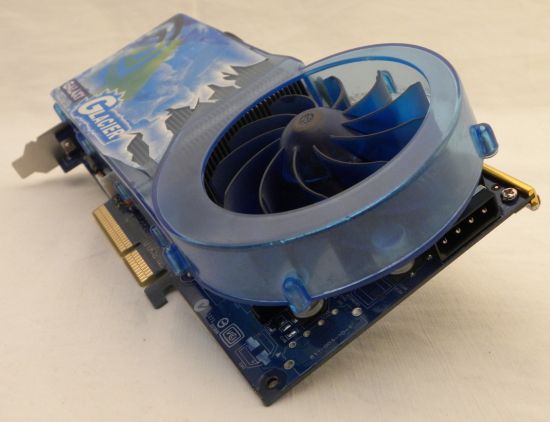 I used the following tools: GPU Caps Viewer 1.11.1, GPU Shark 0.4.4 and FurMark (1.9.0 and 1.8.2).

I successfully ran FurMark and here are the scores (1920×1080, fullscreen, 60 sec, no AA):
– FurMark 1.8.2: 363 points (6 FPS)
– FurMark 1.9.0: 81 points (1 FPS)
The verdict: the latest NVIDIA graphics driver (270 family) still support older GeForce 6. Keep in mind that GeForce 6 and GeForce 7 are non-unified architectures: there are specialized processors for vertex and pixels while GeForce 8 and up are based on unified architecture.
And to end up this post, here are the extensions exposed by R270.51 for a GeForce 6: 191 extensions (GL=175 and WGL=16)
GL_ARB_color_buffer_float
GL_ARB_copy_buffer
GL_ARB_depth_clamp
GL_ARB_depth_texture
GL_ARB_draw_buffers
GL_ARB_ES2_compatibility
GL_ARB_explicit_attrib_location
GL_ARB_fragment_program
GL_ARB_fragment_program_shadow
GL_ARB_fragment_shader
GL_ARB_framebuffer_object
GL_ARB_half_float_pixel
GL_ARB_half_float_vertex
GL_ARB_imaging
GL_ARB_map_buffer_range
GL_ARB_multisample
GL_ARB_multitexture
GL_ARB_occlusion_query
GL_ARB_occlusion_query2
GL_ARB_pixel_buffer_object
GL_ARB_point_parameters
GL_ARB_point_sprite
GL_ARB_provoking_vertex
GL_ARB_robustness
GL_ARB_sampler_objects
GL_ARB_separate_shader_objects
GL_ARB_shader_objects
GL_ARB_shading_language_100
GL_ARB_shading_language_include
GL_ARB_shadow
GL_ARB_texture_border_clamp
GL_ARB_texture_compression
GL_ARB_texture_cube_map
GL_ARB_texture_env_add
GL_ARB_texture_env_combine
GL_ARB_texture_env_crossbar
GL_ARB_texture_env_dot3
GL_ARB_texture_float
GL_ARB_texture_mirrored_repeat
GL_ARB_texture_non_power_of_two
GL_ARB_texture_rectangle
GL_ARB_texture_rg
GL_ARB_texture_swizzle
GL_ARB_timer_query
GL_ARB_transpose_matrix
GL_ARB_vertex_array_bgra
GL_ARB_vertex_array_object
GL_ARB_vertex_buffer_object
GL_ARB_vertex_program
GL_ARB_vertex_shader
GL_ARB_window_pos
GL_ATI_draw_buffers
GL_ATI_texture_float
GL_ATI_texture_mirror_once
GL_S3_s3tc
GL_EXT_texture_env_add
GL_EXT_abgr
GL_EXT_bgra
GL_EXT_blend_color
GL_EXT_blend_equation_separate
GL_EXT_blend_func_separate
GL_EXT_blend_minmax
GL_EXT_blend_subtract
GL_EXT_compiled_vertex_array
GL_EXT_Cg_shader
GL_EXT_depth_bounds_test
GL_EXT_direct_state_access
GL_EXT_draw_range_elements
GL_EXT_fog_coord
GL_EXT_framebuffer_blit
GL_EXT_framebuffer_multisample
GL_EXT_framebuffer_object
GL_EXT_gpu_program_parameters
GL_EXT_multi_draw_arrays
GL_EXT_packed_depth_stencil
GL_EXT_packed_pixels
GL_EXT_pixel_buffer_object
GL_EXT_point_parameters
GL_EXT_provoking_vertex
GL_EXT_rescale_normal
GL_EXT_secondary_color
GL_EXT_separate_shader_objects
GL_EXT_separate_specular_color
GL_EXT_shadow_funcs
GL_EXT_stencil_two_side
GL_EXT_stencil_wrap
GL_EXT_texture3D
GL_EXT_texture_compression_dxt1
GL_EXT_texture_compression_s3tc
GL_EXT_texture_cube_map
GL_EXT_texture_edge_clamp
GL_EXT_texture_env_combine
GL_EXT_texture_env_dot3
GL_EXT_texture_filter_anisotropic
GL_EXT_texture_format_BGRA8888
GL_EXT_texture_lod
GL_EXT_texture_lod_bias
GL_EXT_texture_mirror_clamp
GL_EXT_texture_object
GL_EXT_texture_sRGB
GL_EXT_texture_swizzle
GL_EXT_timer_query
GL_EXT_vertex_array
GL_EXT_vertex_array_bgra
GL_IBM_rasterpos_clip
GL_IBM_texture_mirrored_repeat
GL_KTX_buffer_region
GL_NV_alpha_test
GL_NV_blend_minmax
GL_NV_blend_square
GL_NV_complex_primitives
GL_NV_copy_depth_to_color
GL_NV_depth_clamp
GL_NV_fbo_color_attachments
GL_NV_fence
GL_NV_float_buffer
GL_NV_fog_distance
GL_NV_fragdepth
GL_NV_fragment_program
GL_NV_fragment_program_option
GL_NV_fragment_program2
GL_NV_framebuffer_multisample_coverage
GL_NV_half_float
GL_NV_light_max_exponent
GL_NV_multisample_filter_hint
GL_NV_occlusion_query
GL_NV_packed_depth_stencil
GL_NV_pixel_data_range
GL_NV_point_sprite
GL_NV_primitive_restart
GL_NV_register_combiners
GL_NV_register_combiners2
GL_NV_texgen_reflection
GL_NV_texture_barrier
GL_NV_texture_compression_vtc
GL_NV_texture_env_combine4
GL_NV_texture_expand_normal
GL_NV_texture_lod_clamp
GL_NV_texture_rectangle
GL_NV_texture_shader
GL_NV_texture_shader2
GL_NV_texture_shader3
GL_NV_vertex_array_range
GL_NV_vertex_array_range2
GL_NV_vertex_program
GL_NV_vertex_program1_1
GL_NV_vertex_program2
GL_NV_vertex_program2_option
GL_NV_vertex_program3
GL_NVX_conditional_render
GL_OES_depth24
GL_OES_depth32
GL_OES_depth_texture
GL_OES_element_index_uint
GL_OES_fbo_render_mipmap
GL_OES_get_program_binary
GL_OES_mapbuffer
GL_OES_packed_depth_stencil
GL_OES_rgb8_rgba8
GL_OES_standard_derivatives
GL_OES_texture_3D
GL_OES_texture_float
GL_OES_texture_float_linear
GL_OES_texture_half_float
GL_OES_texture_half_float_linear
GL_OES_texture_npot
GL_OES_vertex_array_object
GL_OES_vertex_half_float
GL_SGIS_generate_mipmap
GL_SGIS_texture_lod
GL_SGIX_depth_texture
GL_SGIX_shadow
GL_SUN_slice_accum
GL_WIN_swap_hint
WGL_EXT_swap_control
WGL_ARB_buffer_region
WGL_ARB_create_context
WGL_ARB_create_context_profile
WGL_ARB_create_context_robustness
WGL_ARB_extensions_string
WGL_ARB_make_current_read
WGL_ARB_multisample
WGL_ARB_pbuffer
WGL_ARB_pixel_format
WGL_ARB_pixel_format_float
WGL_ARB_render_texture
WGL_ATI_pixel_format_float
WGL_EXT_extensions_string
WGL_NV_float_buffer
WGL_NV_render_depth_texture
WGL_NV_render_texture_rectangle