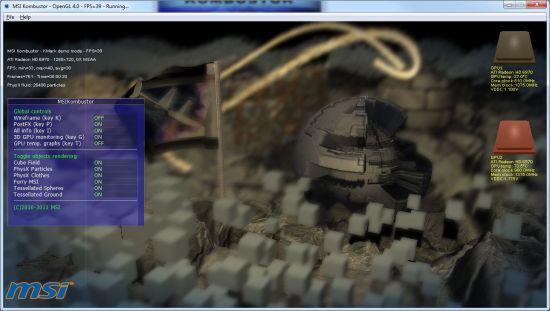 A maintenance release of
Kombustor
, MSI's GPU stress test and benchmarking utility included in
MSI Afterburner
package, is available. More information about the branch 2.x.x of Kombustor can be found
HERE
.
MSI Kombustor offers the following modules:
GL2, GL3, D3D9, D3D10, D3D11 burn-in module (based on FurMark)
GL4 benchmark (tessellation, PhysX).
---

*** MSI Kombustor 2.2.0 beta available! ***

---
MSI Kombustor 2.0.2 download:
[download#226#image]
For multi-GPU support (SLI and CrossFire), read this article: (Tips) How To Enable SLI and CrossFire Support for MSI Kombustor 2.0
MSI Kombustor OpenGL 4 benchmark scores are listed HERE.
All latest news related to MSI Kombustor can be found HERE.
MSI Kombustor 2.0.2 changelog:
New: added support of Radeon HD 6450, HD 6790, HD 6990 and GeForce GTX 590.
New: added a new exe (MSIKombustorGLOnly.exe) that has no dependency with Direct3D.
Change: recompiled with the new PhysX SDK 2.8.4.5.
Change: default background image and fur texture for the GPU burn-in module.
Bugfix: Settings were not correctly saved.