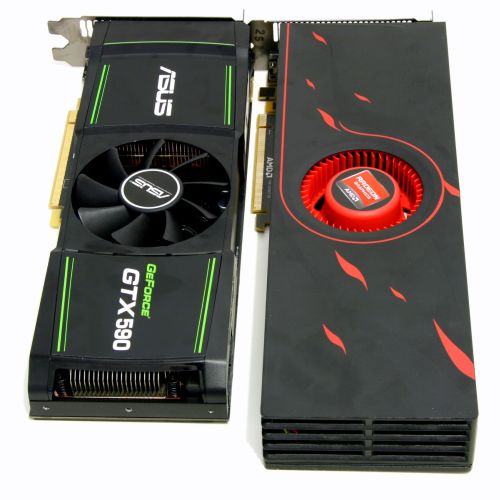 HD 6990 vs GTX 590: the perfect d**k contest
According to reviews, AMD dual-GPU Radeon HD 6990 is faster than NVIDIA GeForce GTX 590. The HD 6990 is faster but also louder. It doesn't matter for AMD, as long as the HD 6990 is faster in 3DMark11…

And of course for NVIDIA, the GTX 590 is the fastest card: NVIDIA GeForce GTX 590 Is World's Fastest Graphics Card.
That's why Dave Erskine (Senior Public Relations Manager for Graphics Desktop at AMD) is challenging NVIDIA:
So now I issue a challenge to our competitor: prove it, don't just say it. Show us the substantiation. Because as it stands today, leading reviewers agree with us here, here, here, and here that the AMD Radeon HD 6990 sits on the top as the world's fastest graphics card.