The Radeon HD 6990 (GPU codenamed Antilles) is made up of two Cayman XT GPUs (HD 6970) clocked at 830MHz (and not at 880MHz like a regular HD 6970) on a single PCB. A Cayman XT GPU has 1536 shader processors which means the HD 6990 has 2×1536 or 3072 SP. In the memory side, the HD 6990 comes with 4GB of GDDR5 memory (2GB per GPU) clocked at 1250MHz real speed (or 5000MHz effective).
The HD 6990 features two 8-pin power connectors. According to this article, the maximal power consumption of the board will be 2*150W + 75W = 375W.

During gaming, the power consumption of the HD 6990 (clocked at 830MHz) is around 350W while peak 3D (FurMark for example) is around 375W. But if HD 6990 GPUs are clocked at 880MHz (HD 6990 OC), the power consumption can jump up to 415W for typical gaming and 450W under FurMark!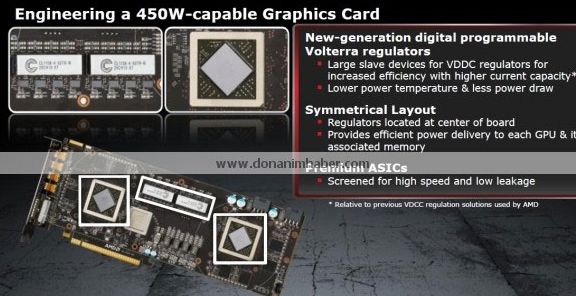 The HD 6990 reference board will have a dual-BIOS switch:
position 2 (default position): factory clocks (GPU @ 830MHz) and voltages (VDDC: 1.120V)
position 1: overclocked GPU @ 880MHz and voltages (VDDC: 1.175V)
The Radeon HD 6990 will be launched on March 8th 2011.
References: