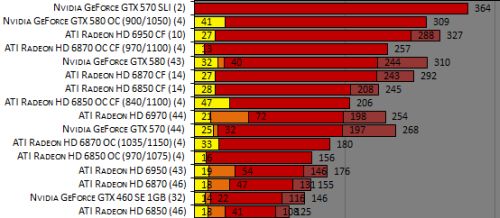 Hi-res charts (1278×6883) are available here
Two members of atomicmpc.com forums have done a nice job gathering in a single chart the power consumption of graphics cards (idle, 2d, typical 3D, peak 3D):
Idle consumption: is typically taken in windows at the desktop with nothing happening on screen.
2D consumption: is any load put on a card that's not 3D or GPGPU based tasks. This may include video playback or simply moving windows around on the screen really fast.
Typical 3D consumption: is the typical max 3D draw of your card whilst running a regular game, 3D app or possibly even GPGPU task.
Peak 3D consumption: should be considered an unlikely and rare case for a GPU. Whilst the card can draw this amount of power if needed, it's only under extreme circumstances (like FurMark benches)
The chart has been updated on December 27, 2010 and then the new GTX 560 Ti is not yet included. But all recent HD 6900 and GTX 580 / GTX 570 are listed.
I quickly checked with power consumptions I found in my reviews and the values look coherent. For exemple, the chart displays 254W (Peak 3D) for a Radeon HD 6970. In my SAPPHIRE HD 6970 review, I found 260W for the card alone when FurMark is running.
I posted high resolutions charts here: Graphics Cards Power Requirements Charts – (2 pictures total).
You can find more information on atomicmpc.com forums HERE.