A new version of
FeedParser
is available.
FeedParser
is a
Python
package for parsing
RSS feeds
. FeedParser is a powerful package and is really simple to use: one line to parse a RSS feed and other line to access the information you need:

rssFeed = feedparser.parse(feed_url)
curFeedTitle = rssFeed['feed']['title']

FeedParser is used in Twitter City demo made with GeeXLab: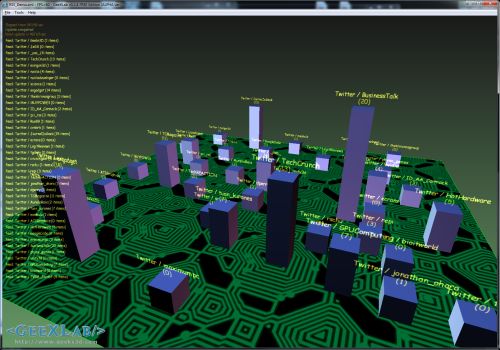 You can download FeedParser HERE or HERE.
FeedParser 5.0 changelog (January 25, 2011):
Improved MathML support
Support microformats (rel-tag, rel-enclosure, xfn, hcard)
Support IRIs
Allow safe CSS through sanitization
Allow safe HTML5 through sanitization
Support SVG
Support inline XML entity declarations
Support unescaped quotes and angle brackets in attributes
Support additional date formats
Added the `request_headers` argument to parse()
Added the `response_headers` argument to parse()
Support multiple entry, feed, and source authors
Officially make Python 2.4 the earliest supported version
Support Python 3
Bug fixes, bug fixes, bug fixes