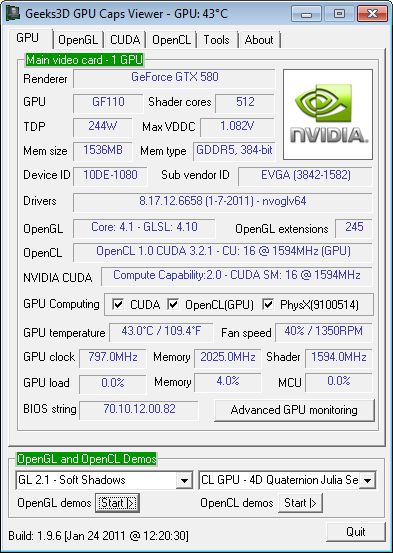 GPU Caps Viewer 1.9.6 adds the support of the very upcoming GeForce GTX 560 Ti.
For NVIDIA cards, I also added the memory bus width in the memoty type field. And good news, all OpenGL 2 demos work now correclty with latest graphics drivers from NVIDIA and AMD (a simple recompilation of the 3D engine has been enough…).
GPU Caps Viewer Download
Webmasters: hotlinking is not allowed (it will cause an error message), please use the post url as download link.
Win32 installer:
[download#198#image]
Portable version (ZIP):
[download#199#image]
What is GPU Caps Viewer?
GPU Caps Viewer is a graphics card information utility focused on the OpenGL, OpenCL and CUDA API level support of the main graphics card. Even if you have several graphics cards in your system, only one is considered as the main OpenGL or Direct3D device. For OpenCL and CUDA, GPU Caps Viewer details the API support of each capable device.
GPU Caps Viewer 1.9.6 changelog
New: added support of NVIDIA GeForce GTX 560 Ti.
New: for NVIDIA cards, added the memory bus width.
Change: GPU Shark 0.4.0
Bugfix: now OpenGL 2.x demos work properly with latest graphics drivers.