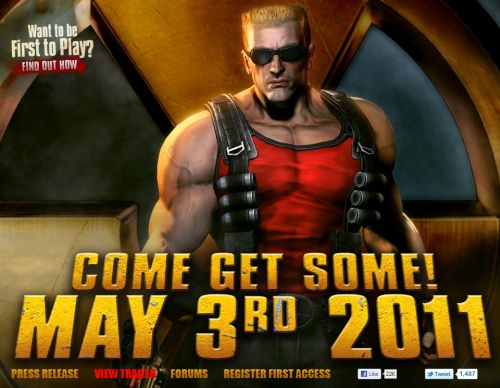 Yeah! Duke Nukem Forever will be shipped on May 3, 2011 in North America and May 6, 2011 in the rest of the world.
New trailer:


[youtube 1-b78TKZIyw]

Press release:
Duke Nukem Forever® Set to Kick Ass and Chew Bubblegum Starting May 3, 2011 Bodacious, EGO-dosed action game brings over-the-top FUN and non-PC humor back to games New York, NY – January 21, 2011 – 2K Games and Gearbox Software announced today what will be a landmark date in gaming history – legendary hero Duke Nukem will make his triumphant return in Duke Nukem Forever® on the Xbox 360® video game and entertainment system from Microsoft, PlayStation® 3 computer entertainment system and Windows PC on May 3, 2011 in North America and May 6, 2011 internationally!

Duke Nukem is one of the biggest and most recognizable brands in the interactive entertainment industry. Irreverent, non-PC, and uber macho, Duke Nukem is the perfect, uncompromising ass-kicking hero to remedy the overdose of today's gaming archetypes. Duke brings his signature brand of babe-lovin', cigar-smoking, beer-chugging and ass-kicking action as he saves the Earth and its babes from hordes of invading aliens. Where will you be when Duke Nukem Forever launches? Better mark your calendars, Duke's legend is being told this May and his brand new trailer, viewable at www.dukenukemforever.com, promises to blow your mind!

"The moment fans all over the world have been waiting for is almost here," declared Christoph Hartmann, president of 2K. "May 3, 2011 marks Duke's return as he unleashes his brash and brutally honest wit on the world. His return is going to be epic and one that will make video gaming history!"

Put on your shades and prepare to step into the boots of Duke Nukem, whose legend has reached epic proportions in the years since his last adventure. The alien hordes are invading and only Duke can save the world. Pig cops, alien shrink rays and enormous alien bosses can't stop our hero from accomplishing his one and only goal: to save the world, save the babes and to be a bad-ass while doing it. The King arrives with an arsenal of over-the-top weapons, non-stop action, and unprecedented levels of interactivity. This game puts the pedal to the metal and tongue firmly in cheek. Shoot hoops, lift weights, read adult magazines, draw crude messages on whiteboards or ogle the many hot women that occupy Duke's life – that is if you can pull yourself away long enough from destroying alien invaders. Duke Nukem was and will forever be a gaming icon, and this is his legend.

"When I said goodbye to 3D Realms and the original Duke Nukem 3D team in 1997 and soon after founded Gearbox Software, I never in my wildest dreams imagined that a day like today would come," said Randy Pitchford, president of Gearbox Software. "Today I am proud, humbled and even astounded to announce that the day is coming at last for all gamers to be a part of video game history: Duke Nukem Forever will launch worldwide this May!"

Players looking to get access to the Duke Nukem Forever playable demo before it is publicly released can join the Duke Nukem Forever First Access Club. A membership certificate for the Duke Nukem Forever First Access Club is included within the Borderlands™ Game of the Year edition, where customers will be able to experience the definitive, value-packed collection of the critically acclaimed and best-selling Role-Playing-Shooter that has captured the imagination and attention of single-player and cooperative gamers around the world.

For more information on Duke Nukem Forever, including where to pre-order a copy, please visit www.dukenukemforever.com. Duke Nukem Forever is rated M for Mature by the ESRB.

2K Games is a division of 2K, a publishing label of Take-Two Interactive Software, Inc. (NASDAQ: TTWO).