ASUS Radeon HD 6950 Review Index
7 – ASUS Radeon HD 6950 Power consumption and Overclocking
For the power consumption and overclocking test, I used the upcoming FurMark 1.9.0 (still not released due to a little lack of time but it should be there shortly!). The graphics workload in the new FurMark 1.9.0 has been slightly increased, leading to more power consumption (few watts in more). But this extra graphics workload can make the difference with high overclocking settings.
The total power consumption of my testbed in idle is 110W (HD 6950 with default clocks).
The Radeon HD 6950 integrates a new power draw limiter called PowerTune: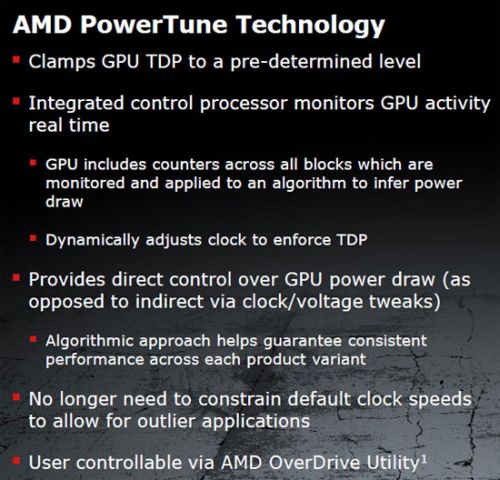 More information about PowerTune can be found in this post:
AMD Radeon HD 6970 and HD 6950: Cayman GPUs are There!
.
I tested the PowerTune technology here: [Tested] Radeon HD 6970 PowerTune Technology.
To overclock a Radeon HD 6950, you must set the PowerTune to +20% in Catalyst Control Center (CCC):

With default GPU clock speed (810MHz), the total power consumption of the testbed stressed by FurMark 1.9.0 is 329W for a max GPU temperature of 91°C (FurMark settings: 1920×1080, fullscreen, Burn-in mode, dynamic background, no AA, no postfx).
We can the calculate the power consumption of ASUS's HD 6950. The Corsair AX1200 PSU has an efficiency factor of around 0.9 (see this article, there is a graph of the AX1200 efficiency).
P = (329-110) * 0.9
P = 197 watts
Under the same conditions, a Radeon HD 6970 shows a power consumption of: 260W for a GPU temperature of 93°C.
To overclock the ASUS HD 6950, I used ASUS SmartDoctor 5.74. SmartDoctor is ASUS's overclocking utility: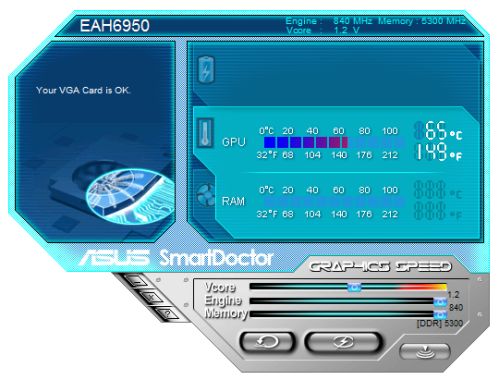 Using SmartDoctor, and by modifying the GPU core clock only and GPU voltage, I managed to get a stable value under FurMark 1.9.0 for a GPU clock of 840MHz. Actually 840MHz is the max clock speed you can set in SmartDoctor and in other overclocking utilities.
To validate this GPU overclocking I ran FurMark 1.9.0 and 3DMark11 Extreme mode benchmarks.
Here are some tests I did:
FurMark 1.9.0, GPU core: 810MHz, Vcore=1.100V. Total power consumption: 329W (HD6950 alone: 197W), GPU temp: 91°C (fan speed auto), FurMark 1.9.0 scorfe: 2047 points
FurMark 1.9.0, GPU core: 840MHz, Vcore=1.200V. Total power consumption: 379W (HD6950 alone: 242W), GPU temp: 93°C (fan speed auto), FurMark 1.9.0 scorfe: 2099 points, 3DMark11 Extreme preset: X1638
FurMark 1.9.0, GPU core: 840MHz, Vcore=1.300V. Total power consumption: 442W (HD6950 alone: 298W), GPU temp: 95°C (fan speed auto)
The last test with a GPU voltage of 1.3V was just for the fun. The HD 6950 is stable with a VDDC of 1.2V so no need to increase again the GPU voltage. With 1.3V, the EAH6950 alone reaches 300W…
And here are the scores to validate this overclocking:
GPU clock = 810MHz (default clock)
– FurMark 1.9.0: 2047 points (34 FPS)
– 3DMark11: X1594

GPU clock = 840MHz (max stable OC)
– FurMark 1.9.0: 2099 points (34 FPS)
– 3DMark11: X1638
To reproduce such overclocking test, I recommend you to have some quality hardware, because we exceed the electric specifications of the system. In my case, a GIGABYTE A-UD5 motherboard and a high-end PSU: Corsair's AX1200!
Here is a comparative table of the power consumption of the card ALONE (not the total power consumption of the system):
Power: 352W – EVGA GTX 580 SC (core: 880MHz, Vcore:1.082V)


Power: 330W – ASUS ENGTX580 (core: 871MHz, Vcore:1.088V)


Power: 324W – EVGA GTX 580 SC (core: 797MHz, Vcore:1.082V – default settings)


Power: 298W – ASUS Radeon HD 6950 (core: 840MHz, Vcore: 1.300V)


Power: 290W – ASUS ENGTX580 (default settings)


Power: 276W – SAPPHIRE Radeon HD 6970 (core: 940MHz, Vcore: 1.175V)


Power: 272W – EVGA GTX 480


Power: 260W – SAPPHIRE Radeon HD 6970 (core: 880MHz, Vcore: 1.175V)


Power: 220W – SAPPHIRE Radeon HD 6870 (core: 1000MHz, Vcore: 1.300V)


Power: 197W – ASUS Radeon HD 6950 (core: 810MHz, Vcore: 1.100V)


Power: 185W – ATI Radeon HD 5870


Power: 155W – SAPPHIRE Radeon HD 6870 (core: 900MHz, Vcore: 1.175V)


Power: 147W – ASUS EAH6870


Power: 135W – MSI N460GTX Cyclone 768D5 OC


ASUS Radeon HD 6950 Review Index