A new update of
GeeXLab
is available. GeeXLab 0.2.9 improves the support of
AntTweakBar
(bugfix in rendering and new Lua functions) and adds the support of
LuaGL
.
LuaGL
is a library that provides access to all
OpenGL
(up to version 1.3) functionalities from Lua. I hope LuaGL developers will add the support of OpenGL 2 shortly in order to have access to GLSL shaders. LuaGL seems an active project (last update: November 12 2010) that's why I added it in GeeXLab.
I added a code sample (in the LuaGL/ folder of the code samples pack) that shows the use of LuaGL and new AntTweakBar functions: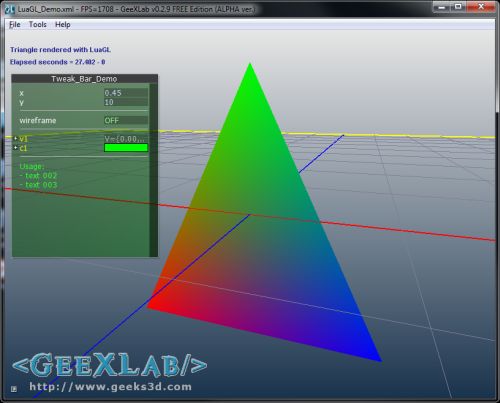 GeeXLab, LuaGL and AntTweakBar
Here is the code snippet that draws the triangle:

if (wireframe == 1) then
  gl.PolygonMode('FRONT_AND_BACK', 'LINE')
else
  gl.PolygonMode('FRONT_AND_BACK', 'FILL')
end

gl.Disable('CULL_FACE')

gl.Begin('TRIANGLES') 
gl.Color(1, 0, 0)
gl.Vertex(-10, -10,  0.0)

gl.Color(c1.r, c1.g, c1.b)
gl.Vertex(v1.x, v1.y, v1.z)

gl.Color(0, 0, 1)
gl.Vertex(10, -10,  0.0)

gl.End()      			

wireframe, v1 and c1 variables can be modified with the tweak bar.
---

GeeXLab 0.2.9:
[ DOWNLOAD ]
Left-click to download (right-click disabled)

Two versions are packed in the installer: GeeXLab_Lua and GeeXLab_Python_Lua. The version of GeeXLab with Python support requires the Python 2.6.6 32-bit installer (or Python 2.7 32-bit installer or Python 3.2 32-bit) even on 64-bit OSes..

---
The code samples pack is available HERE.
All GeeXLab news including tutorials and demos: GeeXLab News.
GeeXLab support forums are available HERE (french) and HERE (english).
For Twitter addicts, you can follow GeeXLab tweets here: @GeeXLab.
What is GeeXLab?
GeeXLab is a tool (we can call it a demotool) for quick coding and prototyping of real time 3D scenes. GeeXLab can be seen as a real time 3D scene browser (like Firefox for html scripts). You code your 3D scene in one or several source code files, you load the main scene file in GeeXLab and GeeXLab displays the scene. That's all. GeeXLab language uses a simple mixture of XML, Lua and/or Python and GLSL. All rendering is done with the OpenGL API. For an overview of GeeXLab, just read this article.


GeeXLab 0.2.8 changelog
New: added support of LuaGL
New: added TwBarAddCaption(), TwBarAddSeparator(), TwBarAddVarRW_Boolean() to HYP_Utils lib (Lua)
New: added HYP_Mesh.Renormalize()
Bugfix: in AntTweakBar rendering