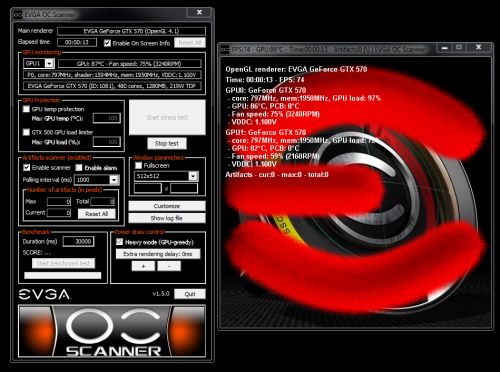 The new version of EVGA
GPU stress test
tool and
artifact scanner
is available.
OC Scanner 1.5.0
adds the support of
GeForce GTX 580
and
GTX 570
with a new feature: a GPU load limiter. The GPU load limiter (or GPU load regulator) allows to keep the GPU load to a specified value in order to prevent the throttling back of the GPU by GTX 500 OCP (over current protection). On my
EVGA GTX 580 SC
, I found that a good value for the GPU load is 90%. With a GPU load of 90%, the card runs at full speed while keeping the power draw in the specifications.
Thread for feedbacks: EVGA OC Scanner 1.5.0 Released @ EVGA forums.
EVGA OC Scanner is now on GTX 500 box 😉


The box of EVGA GTX 580 Superclocked
OC Scanner 1.5.0 changelog:
New: added support of EVGA GeForce GTX 580 and GTX 570.
New: added GPU load limiter (for GeForce GTX 500 series). Default limit: 90%.
New: added GPU core clock, memory clock and GPU load sensor reading in the OSI (On-Screen Information).
New: added TDP in the GPU monitoring zone.
Change: Unlock power draw checkbox renamed in Heavy mode.
Change: slight changes in the main GUI.