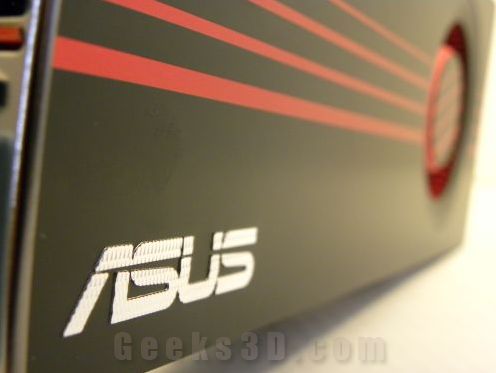 ASUS EAH6870 Review Index
1 – Meet with ASUS's EAH6870
ASUS's EAH6870 is a factory overclocked Radeon HD 6870. The EAH6870 is powered by a Barts XT GPU (1120 shader processors) slightly overclocked at 915MHz (stock clock is 900MHz) and the 1024MB of GDDR5 memory are clocked like AMD's reference board at 1050MHz.
ASUS EAH6870 is priced at USD $240 which is a nice price for a Direct3D 11 / OpenGL 4 class card with compelling performance while keeping the power consumption under 150 watts.
In this review, I'll test the Radeon HD 6870 against the Radeon HD 5770 (MSI R5770 Hawk) and the GeForce GTX 460 (MSI N460GTX Cyclone 768D5). And because Geeks3D loves power 3D cards, I added in the test loop the GeForce GTX 480 (EVGA GTX 480) and the Radeon HD 5870 (ATI reference board).
ASUS has slightly modified the reference VGA cooler by adding a thin aluminium plate that covers all the VGA cooler. According to ASUS, this simple solution allows to reduce by around 14°C the board temperature: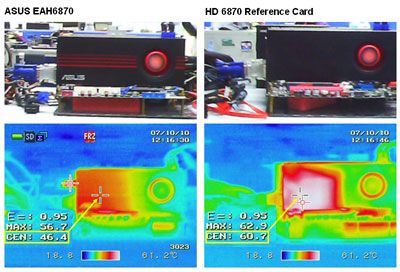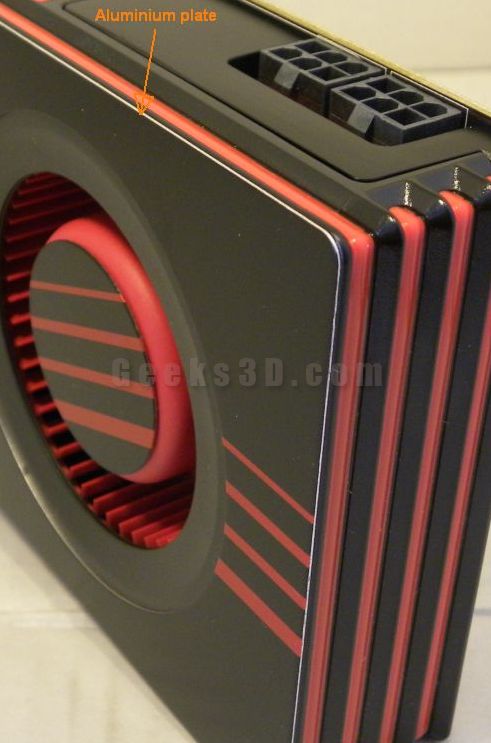 The aluminiun plate that fully covers the VGA cooler
Now some macroscopic pictures of the EAH6870:
---
More big screenshots here, at Geeks3D's Big Pictures:
ASUS EAH6870 (5 pictures total).
---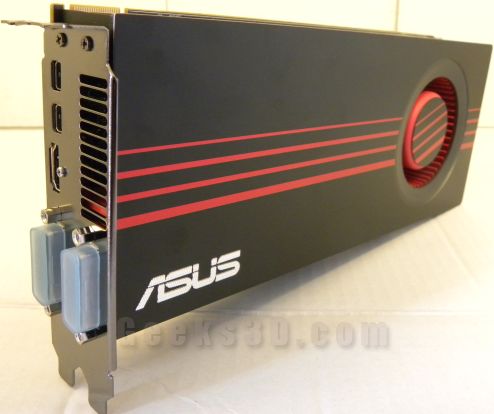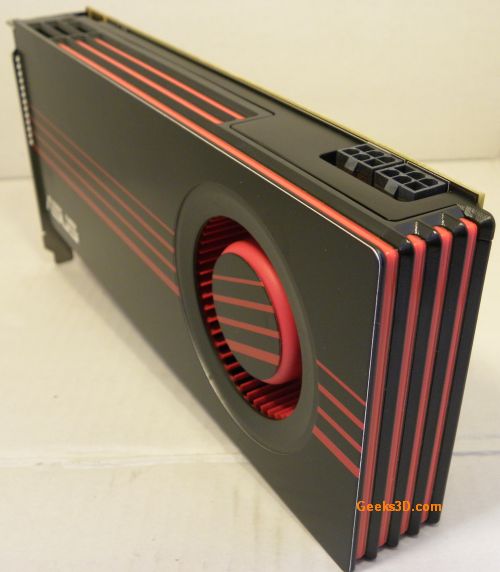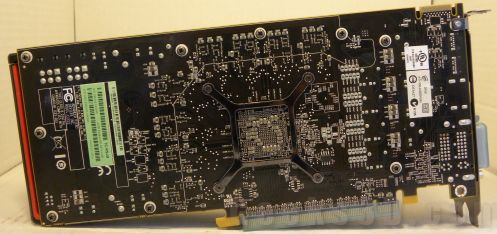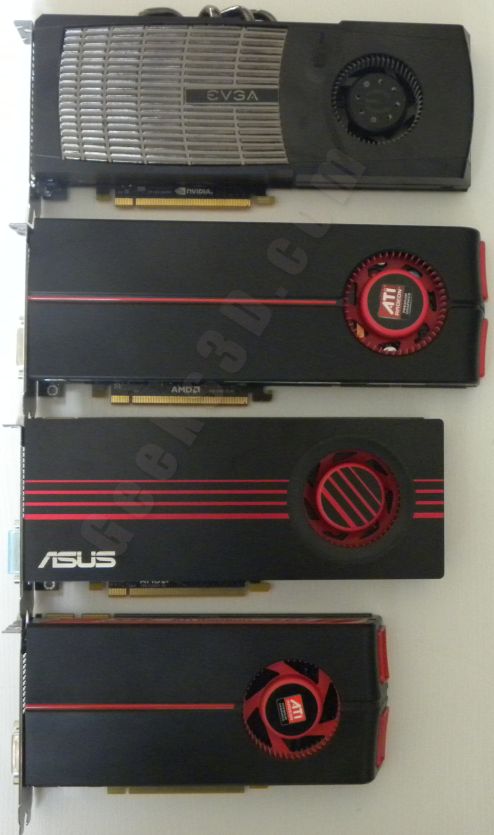 From top to bottom: EVGA GTX 480, ATI Radeon HD 5870, ASUS EAH6870, ATI Radeon HD 5770
One thing I like to see on graphics cards, and that is missing on ASUS EAH6870 and on many other cards / vendors, is a protection plate on the back side of the PCB: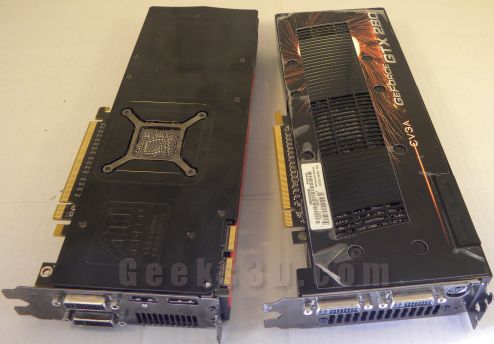 PCB protection plate on ATI Radeon HD 5870 and EVGA GeForce GTX 280
And now, some microscopic pictures of EAH6870 PCB (back side):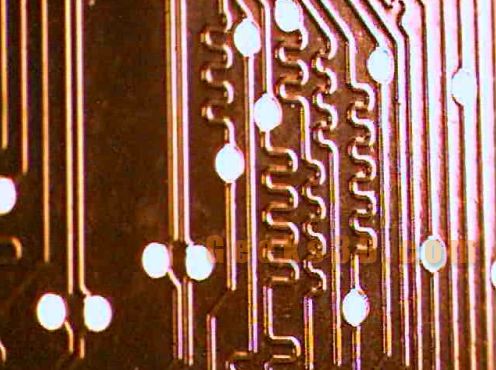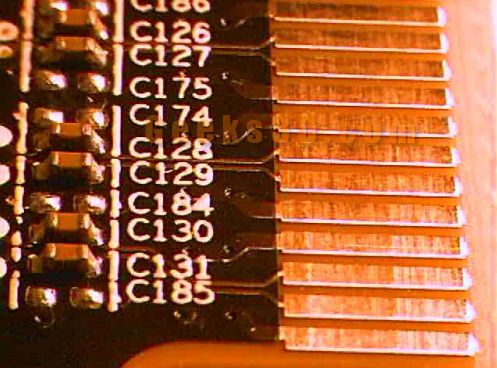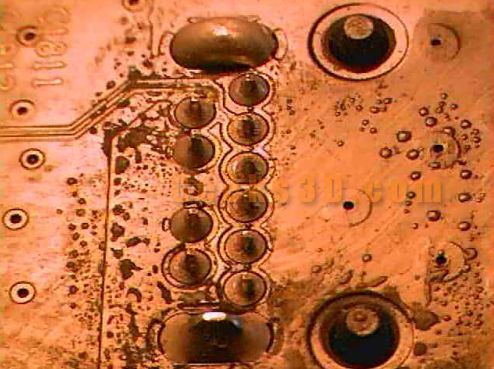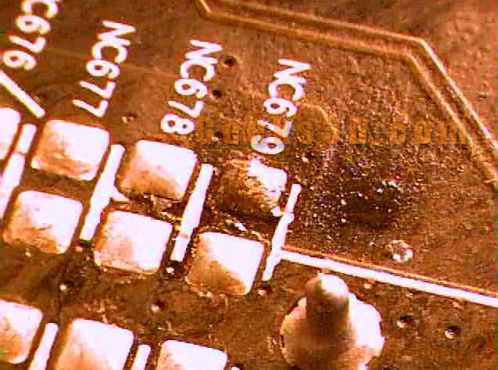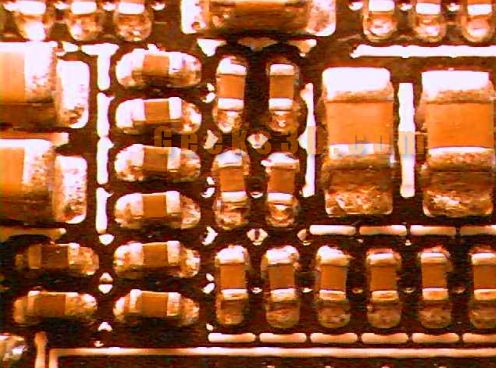 Manually assembled components 😀 ?
2 – ASUS EAH6870 features
GPU: Barts XT @ 915MHz, 1.7 billion transistors, TSMC 40nm
Scalar processors: 1120
SIMD or OpenCL compute units: 14
Memory: 1024MB GDDR5 @ 4200MHz effective or 2100MHz DDR or 1050MHz real speed, 256-bit (see HERE for memory speed details)
Color ROPs: 32
Z / stencil ROPs: 128
Texture units: 56
TDP: a little bit more than 151W (reference HD 6870 has a TDP of 151W)
Power connectors: two 6-pin
3D APIs: OpenGL 4.1 and Direct3D 11
GPU Computing: OpenCL 1.1, DirectCompute 11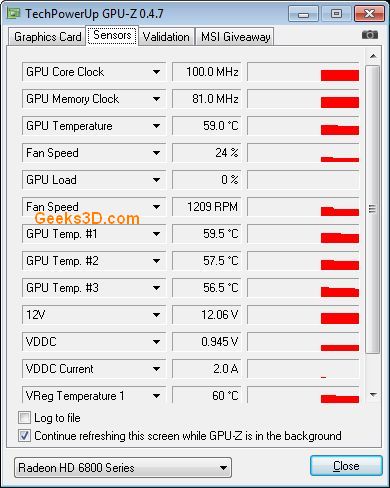 Hardware sensors exposed by GPU-Z 0.4.7 for the HD 6870

Hardware sensors exposed by GPU-Z 0.4.7 for the HD 6870
It's interesting to see that the GPU current (or VDDC current in GPU-Z) is now available for Radeon HD 6800. Modulated with the VDDC (or GPU voltage) we can easily get the GPU power consumption.
ASUS EAH6870 Review Index