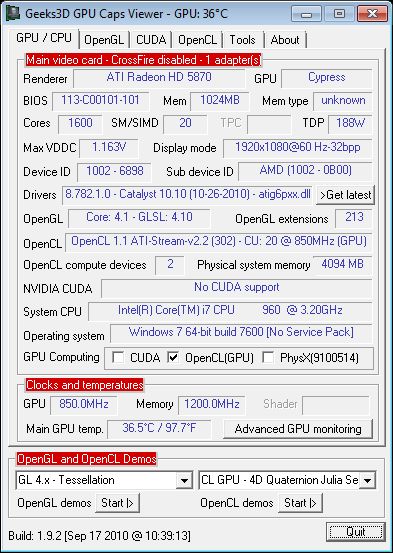 AMD has published another hotfix for Catalyst 10.10 WHQL released few days ago. This hotfix codenamed Catalyst 10.10c can be downloaded HERE.
The main difference with the first hotfix 10.10a seems to be the official announcement of OpenGL 4.1 (beta) support. Catalyst 10.10c improves also the CrossFire support.
Here are some details from GPU Caps Viewer:
– Drivers Version: 8.782.1.0 – Catalyst 10.10 (10-26-2010) – atig6pxx.dll
– ATI Catalyst Release Version String: 8.782.1-101026a-107301E
– OpenGL Version: 4.1.10244 Compatibility Profile/Debug Context
– GLSL (OpenGL Shading Language) Version: 4.10
– OpenGL Extensions: 213 extensions (GL=194 and WGL=19)
For the complete list of OpenGL extensions supported by Cat 10.10c, see HERE.