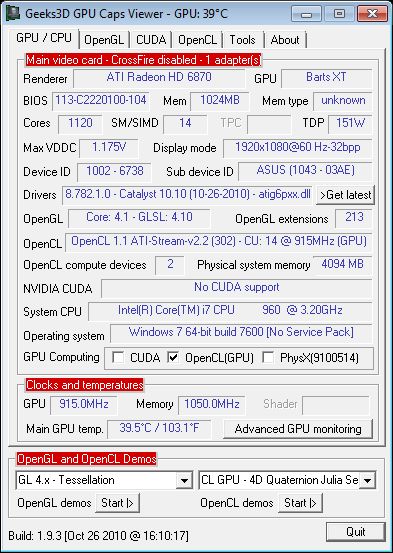 GPU Caps Viewer 1.9.3 and ASUS's EAH6870.
A minor update of
GPU Caps Viewer
is ready. GPU Caps Viewer 1.9.3 adds the support of newly released
Radeon HD 6870
(Barts XT GPU) and
HD 6850
(Barts PRO GPU).
Download
You can download GPU Caps Viewer 1.9.3 here (Win32 installer):
Webmasters: hotlinking is not allowed, please use the post url as download link.
[download#177#image]
Portable version of GPU Caps Viewer 1.9.3 (ZIP file) can be downloaded here:
[download#178#image]
What is GPU Caps Viewer?
GPU Caps Viewer is a graphics card information utility focused on the OpenGL, OpenCL and CUDA API level support of the main graphics card. Even if you have several graphics cards in your system, only one is considered as the main OpenGL or Direct3D device. For OpenCL and CUDA, GPU Caps Viewer details the API support of each capable device. More information about GPU Caps Viewer can be found HERE.
GPU Caps Viewer 1.9.3 changelog
New: added support of AMD Radeon HD 6870 and HD 6850.
New: added support of NVIDIA GeForce GT 430, and GT 440.
I'd like to thank ASUS for the EAH6870 sample, that allowed me to test and update GPU Caps Viewer.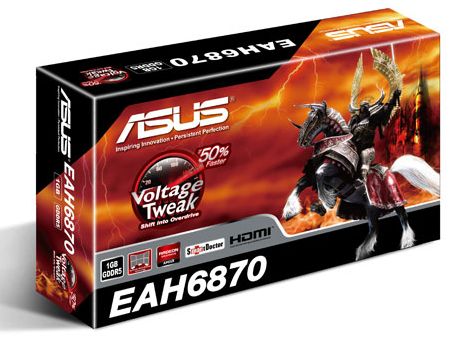 ASUS EAH6870, the review is here