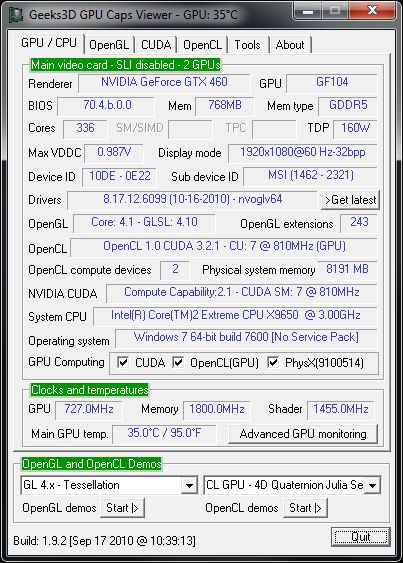 GPU Caps Viewer 1.9.2 + R260.99 + MSI N460GTX Cyclone
NVIDIA has published a new set of WHQL graphics drivers for our cherish green GPUs 😀 (green… not all GPUs…).
This new version comes with better performances in some PC games (Civilization V, Fallout 3, Final Fantasy XIV, and Formula 1 Racing), adds new SLI profiles (Need for Speed: Hot Pursuit, Star Wars: The Force Unleashed II, Fallout: New Vegas) and fixes some bugs under Windows Vista/Windows 7 64-bit (9600GT and GTX 285M in SLI).
PhysX 9.10.0514 is automatically installed.
You can download R260.99 WHQL here:
No new OpenGL extension, still 243 (GL=222 and WGL=21). R260.99 exposes OpenGL 4.1 and OpenCL 1.0 functionalities.