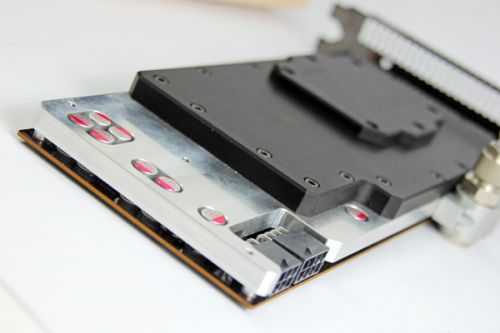 This GeForce GTX 480, made by Point of View / TGT, is the fastest GTX 480 around the world. The GPU, a GF100 with 480 cores, is factory overclocked at 810MHz (ref: 700MHz, see HERE for reference GTX 480) as well as the the memory with a clock speed of 950MHz (ref: 924MHz). The default GPU voltage is 1100mV. The POV TGT GTX 480 Beast comes with a large water block, one of the most efficient solution to quietly dissipate the heat produced by the GPU and the VRMs.
Here are the scores with FurMark 1.8.2 and TessMark 0.2.2:

In FurMark and TessMark,
the POV GTX 480 is nearly 14% faster than reference GTX 480
.
Here is the power consumption with default clocks (FurMark is used to stress the card):


Power consumption with FurMark, default clocks
If the PSU factor is around 0.9, the POV / TGT GTX 480 Beast has a power consumption of: (562-186) * 0.9 =
338 Watts
!
And here is a FurMark / GPU-Z screeny of the POV/TGT GTX 480 with manual overclocking: GPU:882MHz. Notice the GPU current intensity: 124 Amperes!

Even with very high overclocking, the
GPU temperature does not exceed 68°C
. Remarkable!
Read the complete review of the POV / TGT GTX 480 Beast HERE.