"2010: Big year for OpenGL"

Here is a detailed
presentation
(113 slides) done by
Mark Kilgard
on
OpenGL
during the
GTC 2010
. He covers all important points such as OpenGL 3, OpenGL 4, interoperability (with Direct3D, CUDA), double precision in OpenGL shaders (dmat4, dvec4, etc.), tessellation, features of OpenGL 4.1 (separate shader objects, viewport array, OpenGL ES compatibility, binary shaders, 64-bit vertex attributes, shader precision) and a word about OpenGL deprecation.
A must-read presentation for all OpenGL developers!

OpenGL version for NVIDIA GPUs

Double precision in OpenGL shaders

OpenGL deprecation: best advice for real developers 😉
NVIDIA's Position on OpenGL deprecation:
Best advice: Overwhelming majority of deprecated features are fully hardware-accelerated by NVIDIA GPUs and their drivers so take advantage of them—they aren't going away. Think of these features as what you lack in Direct3D
Direct3D / OpenGL interop: you can use resources created by Direct3D in OpenGL. Better: Direct3D and OpenGL can do rendering
to the same render target: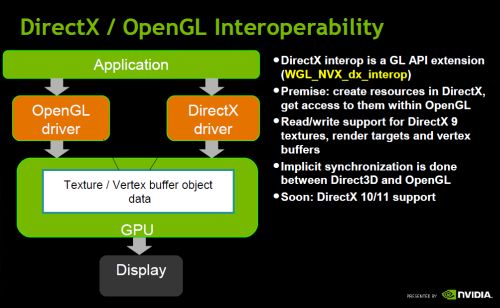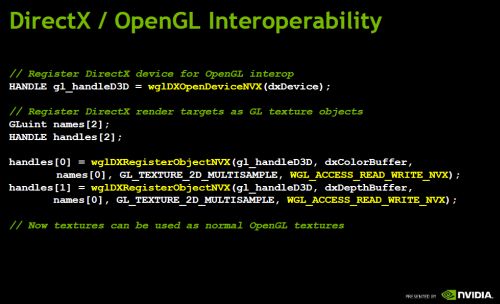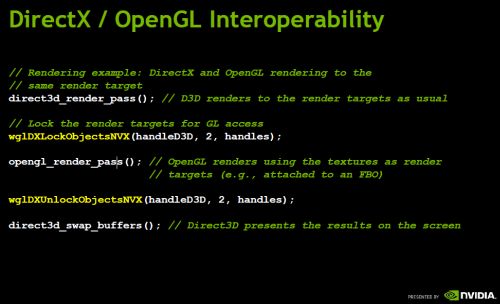 D3D and GL rendering to the same render target!