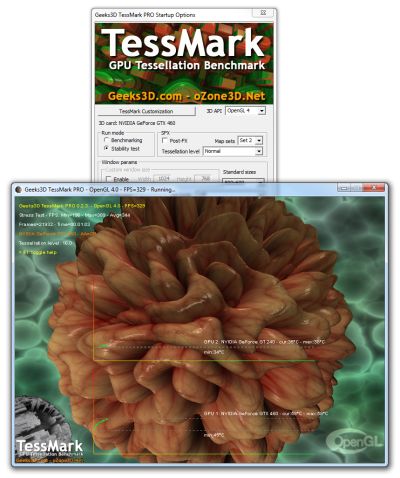 Now that
Catalyst 10.8
drivers have fixed the Radeon HD 58xx tessellation bug, I can publish comparative tables for
TessMark
, the
OpenGL 4 tessellation
benchmark. The following results are valid with the 0.2.x branch of TessMark. Use these results as a quick way to rank your graphics card regarding the GPU tessellation.
This post will be regularly updated.
1 – Geeks3D Results
Testbed:
– CPU: Core i7 960 @ 3.2GHz
– RAM: 4GB DDR3 Corsair Dominator
– Motherboard: GIGABYTE X58-A UD5
– Windows 7 64-bit
– R258.96 + Cat 10.8
– PSU: Corsair AX1200
– All graphics cards have been tested with default clocks.
TessMark settings:
– 1920×1080 fullscreen
– no AA, no Post-FX
– duration=60sec
– map set 1
Tessellation: moderate
97804 (1632FPS) – GeForce GTX 480 3-way SLI (R258.96)


81631 (1364FPS) – GeForce GTX 480 2-way SLI (R258.96)


48084 (804FPS) – EVGA GeForce GTX 480 (R258.96)


30512 (510FPS) – MSI N460GTX Cyclone 768D5 OC (R258.96)


29232 (487FPS) – MSI R5770 Hawk CrossFire (Cat 10.8)


27000 (450FPS) – ATI Radeon HD 5870 (Cat 10.8)


20366 (340FPS) – MSI R5770 Hawk (Cat 10.8)


5185 – Mobility Radeon HD 5470 (Cat 10.7)


Tessellation: normal
69952 (1167FPS) – GeForce GTX 480 3-way SLI (R258.96)


52648 (879FPS) – GeForce GTX 480 2-way SLI (R258.96)


29196 (487FPS) – EVGA GeForce GTX 480 (R258.96)


17452 (291FPS) – MSI N460GTX Cyclone 768D5 OC (R258.96)


13667 (228FPS) – MSI R5770 Hawk CrossFire (Cat 10.8)


8177 (136FPS) – ATI Radeon HD 5870 (Cat 10.8)


7515 (125FPS) – MSI R5770 Hawk (Cat 10.8)


2349 – Mobility Radeon HD 5470 (Cat 10.7)


Tessellation: extreme
34934 (583FPS) – GeForce GTX 480 3-way SLI (R258.96)


24837 (414FPS) – GeForce GTX 480 2-way SLI (R258.96)


13008 (217FPS) – EVGA GeForce GTX 480 (R258.96)


6729 (112FPS) – MSI N460GTX Cyclone 768D5 OC (R258.96)


4094 (68FPS) – MSI R5770 Hawk CrossFire (Cat 10.8)


2150 (36FPS) – ATI Radeon HD 5870 (Cat 10.8)


2114 (35FPS) – MSI R5770 Hawk (Cat 10.8)


820 – Mobility Radeon HD 5470 (Cat 10.7)


Tessellation: insane
7810 (130FPS) – GeForce GTX 480 2-way SLI (R258.96)


3963 (66FPS) – EVGA GeForce GTX 480 (R258.96)


1959 (33FPS) – MSI N460GTX Cyclone 768D5 OC (R258.96)


1028 (18FPS) – MSI R5770 Hawk CrossFire (Cat 10.8)


551 (10FPS) – MSI R5770 Hawk (Cat 10.8)


548 (10FPS) – ATI Radeon HD 5870 (Cat 10.8)


234 – Mobility Radeon HD 5470 (Cat 10.7)


2 – Results from around the Web
Tessellation: normal – 1024×768 fullscreen
65391 (1091FPS) – GeForce GTX 480 2-way SLI, 0X MSAA, (GPU core=700MHz, GPU mem=1848MHz, CPU=Intel Core i7 X980 @ 3.33GHz, source)


42400 (707FPS) – GeForce GTX 460 2-way SLI, 0X MSAA, (GPU core=860MHz, GPU mem=2100MHz, CPU=Intel Core 2 Duo E6750 @ 2.66GHz, source: Arctucas)


27910 (466FPS) – GeForce GTX 470, 0X MSAA, (GPU core=655MHz, GPU mem=1125MHz, CPU=AMD Phenom II X4 940, source)


24985 (416FPS) – GeForce GTX 460, 0X MSAA, (GPU core=920MHz, GPU mem=2200MHz, CPU=Intel Core Q9650 @ 3GHz, source)


18922 (315FPS) – GeForce GTX 460, 0X MSAA, (GPU core=675MHz, GPU mem=1800MHz, CPU=Intel Core Q9650 @ 3GHz, source)


9081 (151FPS) – Radeon HD 5870 (Cat 10.7a), 0X MSAA, (GPU core=900MHz, GPU mem=1250MHz, CPU=Intel Core Q9550 @ 2.83GHz, source)


8679 (145FPS) – Radeon HD 5870 (Cat 10.7a), 8X MSAA, (GPU core=900MHz, GPU mem=1250MHz, CPU=Intel Core Q9550 @ 2.83GHz, source)


Tessellation: extreme – 1024×768 fullscreen
15917 (265FPS) – GeForce GTX 460 2-way SLI, 0X MSAA, (GPU core=860MHz, GPU mem=2100MHz, CPU=Intel Core 2 Duo E6750 @ 2.66GHz, source: Arctucas)


10786 (180FPS) – GeForce GTX 470, 0X MSAA, (GPU core=655MHz, GPU mem=1125MHz, CPU=AMD Phenom II X4 940, source)


8787 (146FPS) – GeForce GTX 460, 0X MSAA, (GPU core=920MHz, GPU mem=2200MHz, CPU=Intel Core Q9650 @ 3GHz, source)


6518 (109FPS) – GeForce GTX 460, 0X MSAA, (GPU core=675MHz, GPU mem=1800MHz, CPU=Intel Core Q9650 @ 3GHz, source)


2300 (39FPS) – Radeon HD 5870 (Cat 10.7a), 0X MSAA, (GPU core=900MHz, GPU mem=1250MHz, CPU=Intel Core Q9550 @ 2.83GHz, source)


Tessellation: insane – 1024×768 fullscreen
8011 (133FPS) – GeForce GTX 480 2-way SLI, 0X MSAA, (GPU core=700MHz, GPU mem=1848MHz, CPU=Intel Core i7 X980 @ 3.33GHz, source)


4591 (77FPS) – GeForce GTX 460 2-way SLI, 0X MSAA, (GPU core=860MHz, GPU mem=2100MHz, CPU=Intel Core 2 Duo E6750 @ 2.66GHz, source: Arctucas)


2475 (41FPS) – GeForce GTX 460, 0X MSAA, (GPU core=920MHz, GPU mem=2200MHz, CPU=Intel Core Q9650 @ 3GHz, source)


1821 (31FPS) – GeForce GTX 460, 0X MSAA, (GPU core=675MHz, GPU mem=1800MHz, CPU=Intel Core Q9650 @ 3GHz, source)


580 (10FPS) – Radeon HD 5870 (Cat 10.7a), 0X MSAA, (GPU core=900MHz, GPU mem=1250MHz, CPU=Intel Core Q9550 @ 2.83GHz, source)


Tessellation: normal – 1680×1050 fullscreen
39135 (653FPS) – GeForce GTX 460, 0X MSAA (GPU core=880MHz, GPU mem=2125MHz, CPU=Core i5 750 @ 2.67GHz, source)


34705 (579FPS) – GeForce GTX 480, 0X MSAA (GPU core=843MHz, GPU mem=1980MHz, CPU=Core i7 920 @ 2.67GHz, source)


9678 (161FPS) – Radeon HD 5850 (Cat 10.8), 0X MSAA, (GPU core=1000MHz, GPU mem=1250MHz, CPU=AMD Phenom II X6 1090T, source)


8476 (141FPS) – Radeon HD 5850 (Cat 10.8), 0X MSAA, (GPU core=900MHz, GPU mem=1200MHz, CPU=Core i5 750 @ 2.67GHz, source)


Tessellation: insane – 1680×1050 fullscreen
3595 (60FPS) – GeForce GTX 470, 4X MSAA (GPU core=780MHz, GPU mem=1750MHz, CPU=Core i5 750 @ 2.67GHz, source)


3171 (60FPS) – GeForce GTX 470, 4X MSAA (GPU core=607MHz, GPU mem=1674MHz, CPU=Core 2 Quad Q9400 @ 2.66GHz, source)


319 (6FPS) – Radeon HD 5500 Series, 0X MSAA (GPU core=550MHz, GPU mem=400MHz, CPU=Pentium Dual Core E5300 @ 2.60GHz, source)


Tessellation: extreme – 1920×1080 fullscreen
22074 (368FPS) – GeForce GTX 470, 0X MSAA, (GPU core=700MHz, GPU mem=1700MHz, CPU=Core i7 920 @ 2.67GHz, source)


915 (16FPS) – Radeon HD 5970, 8X MSAA, (GPU core=725MHz, GPU mem=1000MHz, CPU=AMD Phenom II X4 955, source)


Tessellation: insane – 1920×1080 fullscreen
5469 (91FPS) – GeForce GTX 470, 16X MSAA, (GPU core=830MHz, GPU mem=1800MHz, CPU=Core i5 750 @ 2.67GHz, source)


1876 (32FPS) – GeForce GTX 460, 0X MSAA, (GPU core=700MHz, GPU mem=1800MHz, CPU=Intel Quad core Q9550 @ 2.83GHz, source: Psolord)


915 (16FPS) – Radeon HD 5970, 8X MSAA, (GPU core=725MHz, GPU mem=1000MHz, CPU=AMD Phenom II X4 955, source)


466 (8FPS) – Radeon HD 5850 (Cat 10.8), 0X MSAA, (GPU core=725MHz, GPU mem=1000MHz, CPU=Intel Core i7 860 @ 2.80GHz, source: Psolord)


Tessellation: normal – 1920×1200 fullscreen
35637 (595FPS) – GeForce GTX 460, 0X MSAA (GPU core=880MHz, GPU mem=2125MHz, CPU=Core i5 750 @ 2.67GHz, source)


26641 (445FPS) – GeForce GTX 480, 0X MSAA (GPU core=700MHz, GPU mem=1848MHz, CPU=Core i7 960 @ 3.20GHz, source)


9507 (158FPS) – Radeon HD 5850 (Cat 10.8), 0X MSAA, (GPU core=1000MHz, GPU mem=1250MHz, CPU=AMD Phenom II X6 1090T, source)


8634 (144FPS) – Radeon HD 5870 (Cat 10.7a), 0X MSAA, (GPU core=900MHz, GPU mem=1250MHz, CPU=Intel Core Q9550 @ 2.83GHz, source)


7740 (129FPS) – Radeon HD 5870 (Cat 10.7a), 8X MSAA, (GPU core=900MHz, GPU mem=1250MHz, CPU=Intel Core Q9550 @ 2.83GHz, source)


Tessellation: insane – 1920×1200 fullscreen
7740 (129FPS) – Radeon HD 5870 (Cat 10.7a), 8X MSAA, (GPU core=900MHz, GPU mem=1250MHz, CPU=Intel Core Q9550 @ 2.83GHz, source)


5781 (97FPS) – GeForce GTX 480, 16X MSAA, (GPU core=860MHz, GPU mem=1999MHz, CPU=Intel Core i7 X980 @ 3.33GHz, source)


590 (10FPS) – Radeon HD 5850, 0X MSAA, (GPU core=920MHz, GPU mem=1260MHz, CPU=Intel Core i7 860 @ 2.80GHz, source: jpriton)