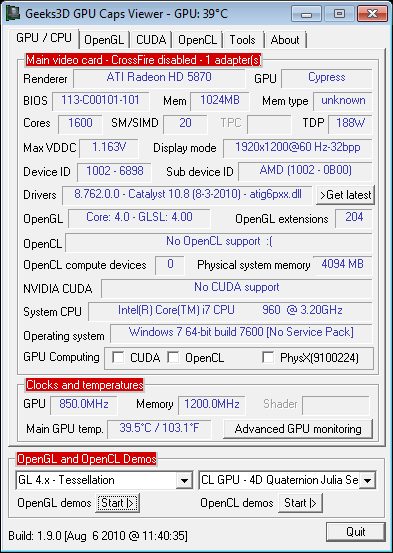 Catalyst 10.8 + HD 5870 + GPU Caps Viewer
AMD has just released the August 2010 edition of
Catalyst graphics drivers
. According to the release notes, here are the new things:
OpenGL ES 2.0 support: ATI Catalyst 10.8 delivers full support for OpenGL ES 2.0 specification. Enables 3D accelerated graphics within a web browser that supports OpenGL ES 2.0. Supported on Windows XP, Windows Vista, and Windows 7
Video Quality default options
Performance enhancement for Eyefinity Quad ATI CrossFireX configurations
Anti-Aliasing support for StarCraft II
There are also minor performance improvements (5%) in Far Cry 2, Left 4 Dead 2 and Stormrise…
Maybe I missed this part in the release notes, but there's no mention of OpenGL bugfixes, especially the one related to tessellation with the Radeon HD 5870: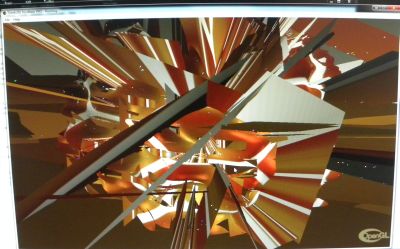 Catalyst 10.7 + HD 5870 + TessMark
I just tested and now,
TessMark works fine with my HD 5870
. I will publish tomorrow a complete comparative table for TessMark 😉
Since we mention OpenGL, Catalyst 10.8 are still an OpenGL 4.0 driver and there is no new extension. So for a complete OpenGL extensions list, see Catalyst 10.7 news.
Other useful info from GPU Caps Viewer:
– Drivers Version: 8.762.0.0 – Catalyst 10.8 (8-3-2010) – atig6pxx.dll
– ATI Catalyst Version String: 10.8
– ATI Catalyst Release Version String: 8.762-100803a-103691C-ATI
– OpenGL Version: 4.0.10151 Compatibility Profile/Debug Context
– GLSL (OpenGL Shading Language) Version: 4.00
As usual, you can download Catalyst 10.8 from these links: