I recently discovered this tool for 3D artists and it looks very cool.
Sculptris
is a tool for 3D sculpture. Sculptris is free and is available for Windows. Sculptris is now part of Pixologic's softwares as described
HERE
:
As a taste of things to come, Pixologic would also like to give you a little appetizer 'goodie', an Alpha version of Sculptris for Windows – a unique, very 'cool' artistic modeling application still in raw baby stage and now incubating at Pixologic HQ. The current version, formerly known as Sculptris 1.02, will be renamed under Pixologic banner as Sculptris Alpha 5.

Sculptris is the brainchild of the bright programmer Tomas Pettersson. Sculptris has captured the hearts of artists with its fun, intuitive and user-friendly interface – indeed a perfectly sweet companion to our big monster ZBrush! Tomas will be moving to California, from Sweden, to join our team. It is our pleasure to welcome Tomas and we look forward to a fruitful collaboration on future Pixologic projects.
You can download it HERE (there's a link at the end of the first post).
I did a quick test. After around one minute of modeling, I exported my cool object (yes I know, I'm not a 3D artist…) in OBJ format (55574 faces) and loaded it in GeeXLab: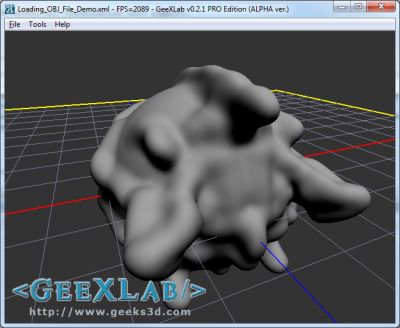 Sculptris OBJ exporter works fine (vertex normals are exported) but I didn't find a way to export the material file. I manually added such a file and the model has been perfectly loaded by GeeXLab (the demo is available is the
Code Sample Pack
in the OBJ file loading folder).
You can start sculpting from a sphere, a plane or from your own model in OBJ format. Sculptris is very easy to use so don't hesitate to try it out.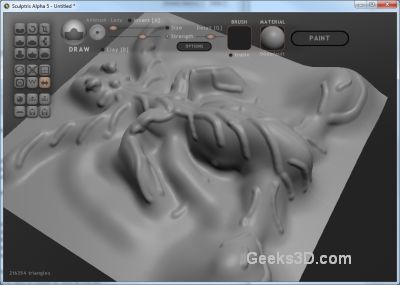 An attempt to give life from a plane!
There is a forum for Sculptris users HERE.
And don't miss this excellent video about Sculptris:


[youtube 6DNRg6pdNeE]