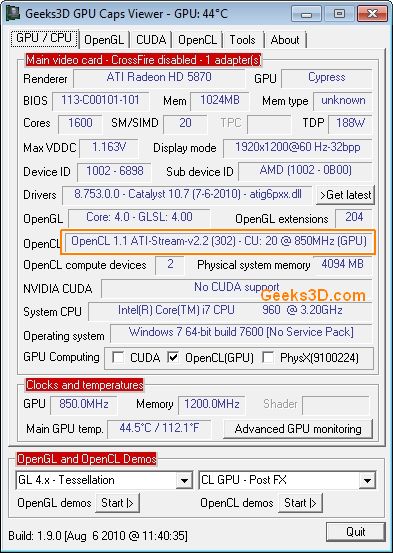 ATI Stream SDK 2.2 + GPU Caps Viewer
After
NVIDIA and its OpenCL 1.1 SDK
, it's AMD's turn to update its
ATI Stream SDK
with the support of the new
OpenCL 1.1
specifications. More information on this new release
HERE
.
You can download the ATI Stream SDK 2.2 HERE (bottom of the page).
To enjoy OpenCL with ATI Radeon cards, there are two steps:
1 – install the latest Catalyst drivers (I used Cat 10.7).
2 – Install the ATIStreamSDK_dev_Win7.exe you'll find in the Packages/Apps/ folder of the compressed ati-stream-sdk-v2.2-vista-win7-32.exe file.
3 – Test the OpenCL with GPU Caps Viewer 😉
And… this SDK works fine with GPU Caps Viewer. All demos are OK!

Here is the OpenCL report of GPU Caps Viewer:

- Num OpenCL platforms: 1
- Name: ATI Stream
- Version: OpenCL 1.1 ATI-Stream-v2.2 (302)
- Profile: FULL_PROFILE
- Vendor: Advanced Micro Devices, Inc.
- Num devices: 2

	- CL_DEVICE_NAME: Intel(R) Core(TM) i7 CPU         960  @ 3.20GHz
	- CL_DEVICE_VENDOR: GenuineIntel
	- CL_DRIVER_VERSION: 2.0
	- CL_DEVICE_PROFILE: FULL_PROFILE
	- CL_DEVICE_VERSION: OpenCL 1.1 ATI-Stream-v2.2 (302)
	- CL_DEVICE_TYPE: CPU
	- CL_DEVICE_VENDOR_ID: 0x1002
	- CL_DEVICE_MAX_COMPUTE_UNITS: 8
	- CL_DEVICE_MAX_CLOCK_FREQUENCY: 3238MHz
	- CL_DEVICE_ADDRESS_BITS: 32
	- CL_DEVICE_MAX_MEM_ALLOC_SIZE: 524288KB
	- CL_DEVICE_GLOBAL_MEM_SIZE: 1024MB
	- CL_DEVICE_MAX_PARAMETER_SIZE: 4096
	- CL_DEVICE_GLOBAL_MEM_CACHELINE_SIZE: 64 Bytes
	- CL_DEVICE_GLOBAL_MEM_CACHE_SIZE: 32KB
	- CL_DEVICE_ERROR_CORRECTION_SUPPORT: NO
	- CL_DEVICE_LOCAL_MEM_TYPE: Global
	- CL_DEVICE_LOCAL_MEM_SIZE: 32KB
	- CL_DEVICE_MAX_CONSTANT_BUFFER_SIZE: 64KB
	- CL_DEVICE_MAX_WORK_ITEM_DIMENSIONS: 3
	- CL_DEVICE_MAX_WORK_ITEM_SIZES: [1024 ; 1024 ; 1024]
	- CL_DEVICE_MAX_WORK_GROUP_SIZE: 1024
	- CL_EXEC_NATIVE_KERNEL: 4740636
	- CL_DEVICE_IMAGE_SUPPORT: NO
	- CL_DEVICE_MAX_READ_IMAGE_ARGS: 0
	- CL_DEVICE_MAX_WRITE_IMAGE_ARGS: 0
	- CL_DEVICE_IMAGE2D_MAX_WIDTH: 0
	- CL_DEVICE_IMAGE2D_MAX_HEIGHT: 0
	- CL_DEVICE_IMAGE3D_MAX_WIDTH: 0
	- CL_DEVICE_IMAGE3D_MAX_HEIGHT: 0
	- CL_DEVICE_IMAGE3D_MAX_DEPTH: 0
	- CL_DEVICE_MAX_SAMPLERS: 0
	- CL_DEVICE_PREFERRED_VECTOR_WIDTH_CHAR: 16
	- CL_DEVICE_PREFERRED_VECTOR_WIDTH_SHORT: 8
	- CL_DEVICE_PREFERRED_VECTOR_WIDTH_INT: 4
	- CL_DEVICE_PREFERRED_VECTOR_WIDTH_LONG: 2
	- CL_DEVICE_PREFERRED_VECTOR_WIDTH_FLOAT: 4
	- CL_DEVICE_PREFERRED_VECTOR_WIDTH_DOUBLE: 0
	- CL_DEVICE_EXTENSIONS: 11
	- Extensions:
		- cl_amd_fp64
		- cl_khr_global_int32_base_atomics
		- cl_khr_global_int32_extended_atomics
		- cl_khr_local_int32_base_atomics
		- cl_khr_local_int32_extended_atomics
		- cl_khr_byte_addressable_store
		- cl_khr_gl_sharing
		- cl_ext_device_fission
		- cl_amd_device_attribute_query
		- cl_amd_printf
		- cl_khr_d3d10_sharing

	- CL_DEVICE_NAME: Cypress
	- CL_DEVICE_VENDOR: Advanced Micro Devices, Inc.
	- CL_DRIVER_VERSION: CAL 1.4.737
	- CL_DEVICE_PROFILE: FULL_PROFILE
	- CL_DEVICE_VERSION: OpenCL 1.1 ATI-Stream-v2.2 (302)
	- CL_DEVICE_TYPE: GPU
	- CL_DEVICE_VENDOR_ID: 0x1002
	- CL_DEVICE_MAX_COMPUTE_UNITS: 20
	- CL_DEVICE_MAX_CLOCK_FREQUENCY: 850MHz
	- CL_DEVICE_ADDRESS_BITS: 32
	- CL_DEVICE_MAX_MEM_ALLOC_SIZE: 131072KB
	- CL_DEVICE_GLOBAL_MEM_SIZE: 512MB
	- CL_DEVICE_MAX_PARAMETER_SIZE: 1024
	- CL_DEVICE_GLOBAL_MEM_CACHELINE_SIZE: 0 Bytes
	- CL_DEVICE_GLOBAL_MEM_CACHE_SIZE: 0KB
	- CL_DEVICE_ERROR_CORRECTION_SUPPORT: NO
	- CL_DEVICE_LOCAL_MEM_TYPE: Local (scratchpad)
	- CL_DEVICE_LOCAL_MEM_SIZE: 32KB
	- CL_DEVICE_MAX_CONSTANT_BUFFER_SIZE: 64KB
	- CL_DEVICE_MAX_WORK_ITEM_DIMENSIONS: 3
	- CL_DEVICE_MAX_WORK_ITEM_SIZES: [256 ; 256 ; 256]
	- CL_DEVICE_MAX_WORK_GROUP_SIZE: 256
	- CL_EXEC_NATIVE_KERNEL: 4740632
	- CL_DEVICE_IMAGE_SUPPORT: YES
	- CL_DEVICE_MAX_READ_IMAGE_ARGS: 128
	- CL_DEVICE_MAX_WRITE_IMAGE_ARGS: 8
	- CL_DEVICE_IMAGE2D_MAX_WIDTH: 8192
	- CL_DEVICE_IMAGE2D_MAX_HEIGHT: 8192
	- CL_DEVICE_IMAGE3D_MAX_WIDTH: 2048
	- CL_DEVICE_IMAGE3D_MAX_HEIGHT: 2048
	- CL_DEVICE_IMAGE3D_MAX_DEPTH: 16
	- CL_DEVICE_MAX_SAMPLERS: 16
	- CL_DEVICE_PREFERRED_VECTOR_WIDTH_CHAR: 16
	- CL_DEVICE_PREFERRED_VECTOR_WIDTH_SHORT: 8
	- CL_DEVICE_PREFERRED_VECTOR_WIDTH_INT: 4
	- CL_DEVICE_PREFERRED_VECTOR_WIDTH_LONG: 2
	- CL_DEVICE_PREFERRED_VECTOR_WIDTH_FLOAT: 4
	- CL_DEVICE_PREFERRED_VECTOR_WIDTH_DOUBLE: 0
	- CL_DEVICE_EXTENSIONS: 12
	- Extensions:
		- cl_amd_fp64
		- cl_khr_global_int32_base_atomics
		- cl_khr_global_int32_extended_atomics
		- cl_khr_local_int32_base_atomics
		- cl_khr_local_int32_extended_atomics
		- cl_khr_3d_image_writes
		- cl_khr_byte_addressable_store
		- cl_khr_gl_sharing
		- cl_amd_device_attribute_query
		- cl_amd_printf
		- cl_amd_media_ops
		- cl_khr_d3d10_sharing