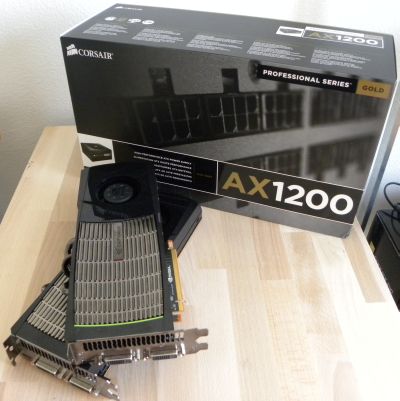 Today, for the first time and thanks to
Corsair
, I managed, at last, to test or better to stress test a
2-way SLI of GTX 480
. I've received yesterday Corsair's flagship
PSU
(Power Supply Unit): the
AX1200
. And it's a really kick-ass PSU as you will see in this article.
Article index
1 – Corsair AX1200 PSU
Here is a quick overview of the AX1200 power supply unit.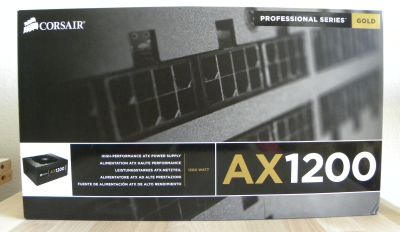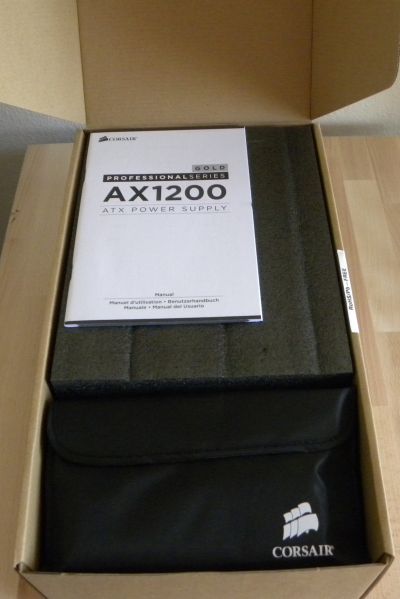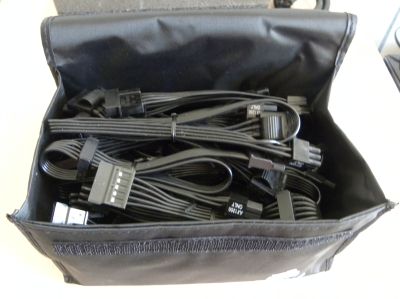 A bag of modular cables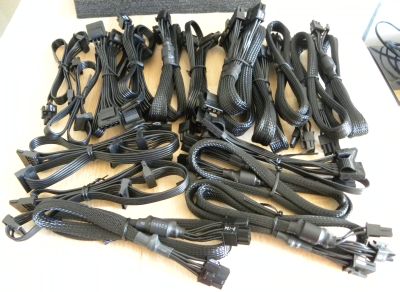 All modular cables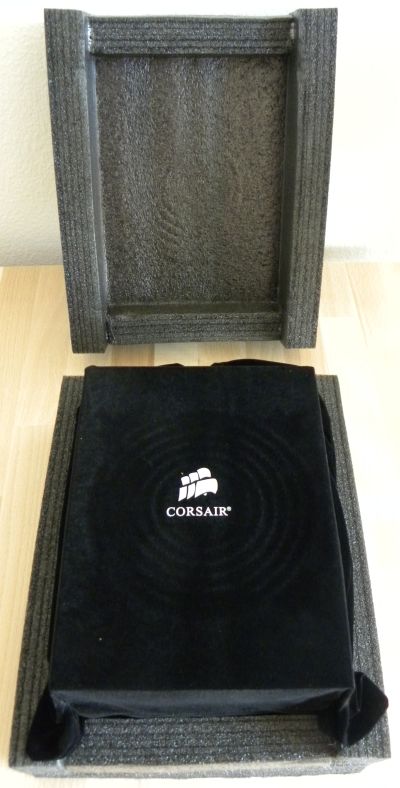 The PSU in its velvet bag – Nice!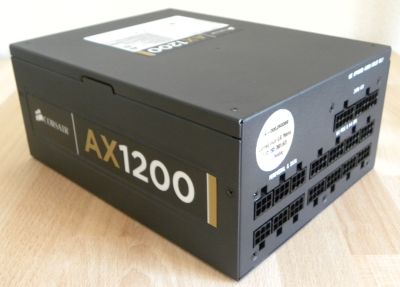 The PSU!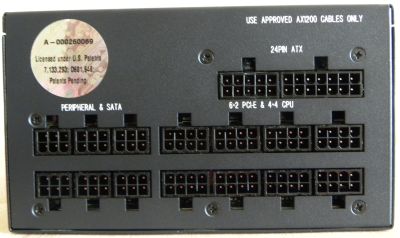 All connectors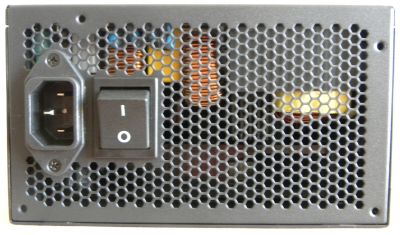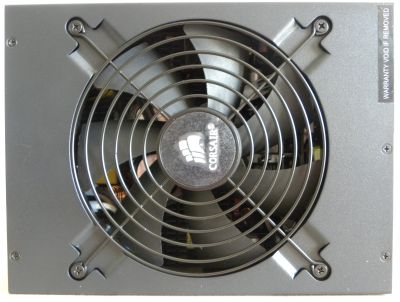 The ultra quiet 140mm fan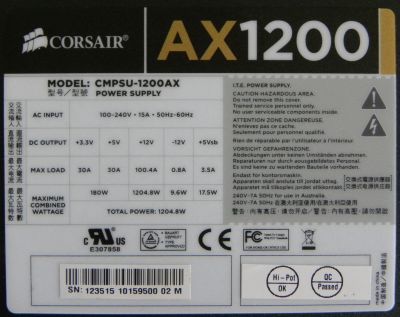 AX1200 features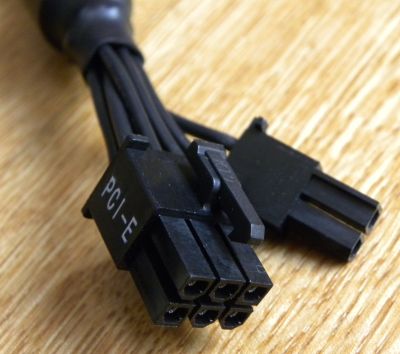 One of the six 6-pin AND 8-pin PCI-Express power connectors – 3-way GTX 480 SLI ready!
This PSU is nice for my tests because it features six PCI-Express power connectors. That makes it possible to feed three GeForce GTX 480 in 3-way SLI. For this test, I only played with a 2-way SLI. 3-way SLI is left for another test.
Since I don't have time and the equipment for accurate analysis (like an oscilloscope or a load bench), here is a selection of detailed reviews about the AX1200:
And here's a technical overview of the AX1200 (Corsair's blog).
2 – AX1200 in Real… Xtreme Situation!
Okay now the serious part. My last attempt to play with a 2-way SLI of GTX 480 was a pure failure: My 850W PSU is not Enough for Two GTX 480 Stressed by EVGA OC Scanner. And recently when I was testing some new stuff in FurMark, my Thermaltake 850W was not able to handle… a single GTX 480. With all these new monsters, developing a GPU tool like FurMark is become a very tough task. Currently the weakest link of my FurMark-based development chain is the PSU. But now, things have changed as you will see it right now.
I read many n-way SLI tests based on FurMark (or MSI Kombustor or even EVGA OC Scanner) over the web but often, the authors didn't really push to the max the GPUs. Why? Because either, for instance, they use the tool in limited power draw mode (Kombustor or OC Scanner), or they ran FurMark in windowed mode (SLI does not work in windowed mode!). But fortunately, there are also serious websites that use FurMark in the right way 😉
So I decided to see how the AX1200 handles a 2-way SLI of GTX 480 stressed by EVGA OC Scanner and FurMark (MSI Kombustor gives results similar to FurMark).
The testbed:
– CPU: Core i7 960 @ 3GHz
– RAM: 4GB DDR3 1600MHz Corsair Dominator
– Motherboard: GIGABYTE X58 A-UD5
– Windows 7 64-bit
– Graphics drivers: R258.96
– Graphics cards: two GeForce GTX 480 (reference board + reference clocks).
– Wattmeter
– Idle power consumption of the system: 190 Watts.
– EVGA Precision for GPU usage.
2.1 – AX1200 + 2-way SLI GTX 480 + EVGA OC Scanner
EVGA OC Scanner EVGA OC Scanner is EVGA's VGA stress test utility and artifact scanner. Used in conjunction with EVGA Precision, you can find the max stable GPU clock speed.
For the stress tests, I used OC Scanner 1.3.1 which is the latest release.
OC Scanner is based on FurMark engine for the stress test module and has an OpenGL renderer. The nice thing with OC Scanner is the availability of a SLI profile in NVIDIA drivers.
The SLI Visual Indicator was enabled for all tests:

Here are OC Scanner settings: 1920×1080 fullscreen, power draw unlocked, OSI enabled.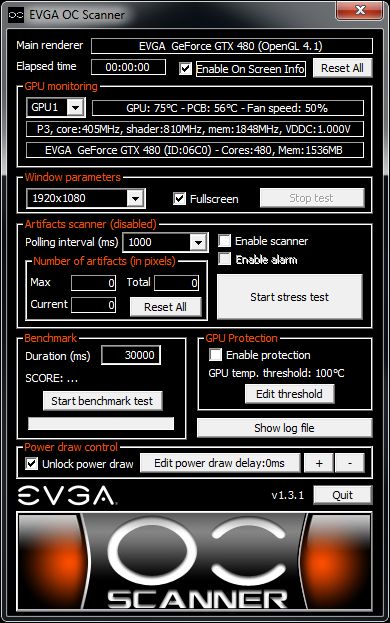 We want some numbers NOW!
First thing and the most important: the AX1200 can handle without problem two GTX 480 in SLI and severely stressed by OC Scanner.
OC Scanner is a pure GPU torture test, no doubt. I knew that OC Scanner was hard with GPUs but I didn know how much. OC Scanner is a very bad guy with the GTX 480, worse than the current FurMark. According to EVGA Precision, both GPUs were stressed at 98% and the power consumption reached 820 Watts! So (820-190) * 0.9 = 567 Watts for both GTX 480 or 283 Watts per GTX 480 including the PSU efficiency factor (0.9).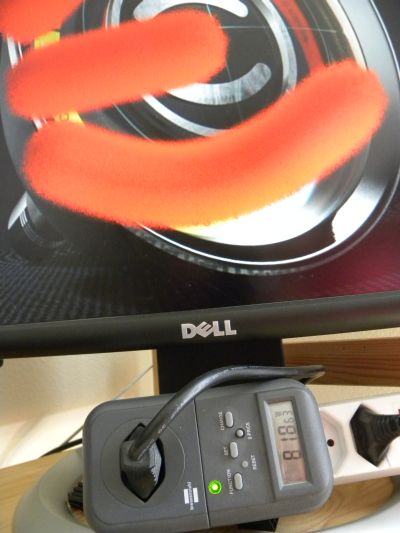 And this is the first time I see a non-overclocked GTX 480 GPU to reach 100°C with automatic fan speed: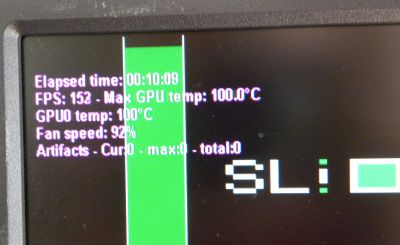 As you see, this test has been rather hard. And I must say the AX1200 is really a high quality product.
2.2 – AX1200 + 2-way SLI GTX 480 + FurMark
Okay now let's see FurMark tests. I used FurMark 1.8.2 which is the latest public version.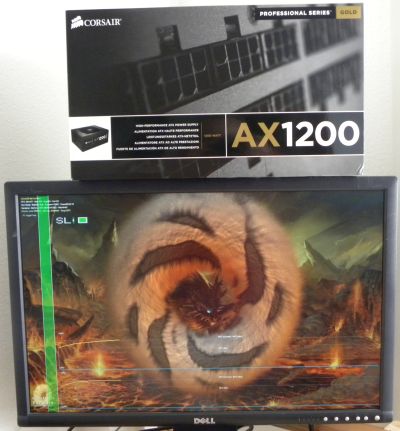 FurMark settings: 1920×1080 fullscreen, Xtreme mode, displacement mapping.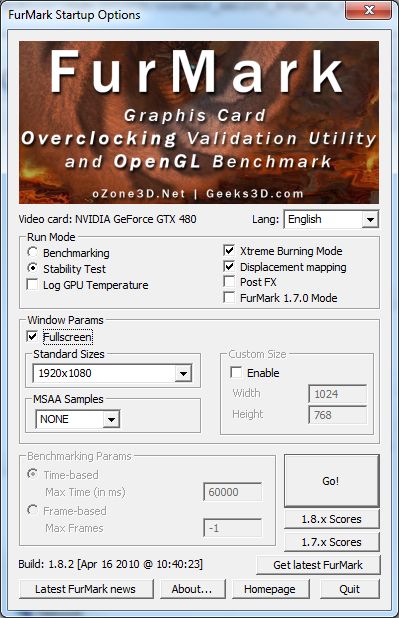 Results:
– GPU usage: 99% (both GPUs)
– Max GPU temperature: 95°C
– Max power consumption: 790 Watts – (790-190)*0.9 = 540W / 2 =
270 Watts
per GTX 480.
As you see, the current FurMark is a bit gentler with the GTX 480 than OC Scanner. I hope FurMark 1.9.0 with restore the situation! Anyway, once again, Corsair's AX1200 worked like a charm.
2.3 – AX1200: Conlusion
I have now the PSU that will help me to make FurMark more aggressive with our graphics cards. But AX1200 tests are not over. I have to play now with a 3-way SLI of GTX 480 and with overclocked GTX 480… in another article, because it's getting hot in my lab…
And what about the AX1200 and the hypothetical GTX 480 with 512 Shader processors ???
Thank you Mike for this great PSU 😉