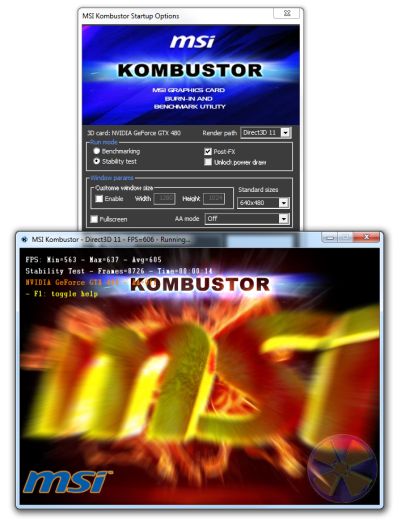 A new update of
Kombustor
, MSI's
VGA stress test
based on
FurMark
, is available. Now, all versions of Kombustor (DX9, DX10 and DX11) are packed into a single Win32 installer. A loader (KLoaderWin32.exe) is called first and, according to the Windows version, starts the right version of Kombustor.
---

*** MSI Kombustor 2.2.0 beta available! ***

---
You can download MSI Kombustor 1.1.3 here:
[download#153#image]
Kombustor 1.1.3 thread on Guru3D forums can be found HERE.
The D3D11 render path seems to have some problems to stress the GPU (see this thread). I hope it's in my code… More on this asap. But DX9, GL2 and GL3 render paths are heavy!
MSI Kombustor 1.1.3 changelog
Change: a loader (KLoader) is now used to start the correct version of Kombustor (DX9, DX10 or DX11) according to the version of Windows (XP, Vista or Seven).
Change: minor change in the refresh rate settings of DX10 and DX11 render window.
Bugfix: added dim checking and resizing for custom textures.