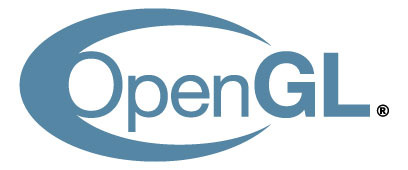 A new version of GPU Caps Viewer is ready. This version improves the support of OpenGL 4 with a new demo that shows one of the current hot topics in 3D programming: the GPU tessellation.
You can download GPU Caps Viewer 1.9.0 here (Win32 installer):
Webmasters: hotlinking is not allowed, please use the post url as download link.
[download#151#image]
And the portable version (Zip file) can be downloaded here:
[download#152#image]
OpenGL 4 GPU tessellation requires a DX11 class graphics hardware: NVIDIA GeForce GTX 400 Series or ATI Radeon HD 5000 Series.
The demo use an OpenGL 4.0 context with a core profile.

[youtube CQ7Lgrh0AJY]

Okay I know the new demo isn't a killer demo but it shows the tessellation of the most important primitive in real time 3D: the triangle. More screenshots with various tessellation levels are available here:
[Test] First Contact with OpenGL 4.0 GPU Tessellation
If you want to see a more serious tessellation demo, stay tuned on Geeks3D, I will release my new GPU tessellation benchmark very shortly (see some screenshots HERE).
What is GPU Caps Viewer?
GPU Caps Viewer is a graphics card information utility focused on the OpenGL / OpenCL / CUDA API level support of the main graphics card. Even if you have several graphics cards in your system, only one is considered as the main OpenGL or Direct3D device. For OpenCL and CUDA, GPU Caps Viewer details the API support of each capable device. More information about GPU Caps Viewer can be found HERE.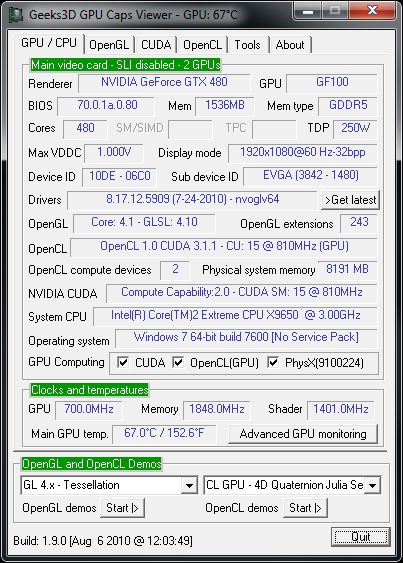 GPU Caps Viewer 1.9.0 changelog
New: added OpenGL 4 GPU tessellation demo (PRO version users can play with the tessellation levels).
New: added NVIDIA Tesla C2050 in the database.
Update: links to OpenGL registry (GL 4 extensions).
Change: use of the debug bit in the creation of the OpenGL 3 or OpenGL 4 context.