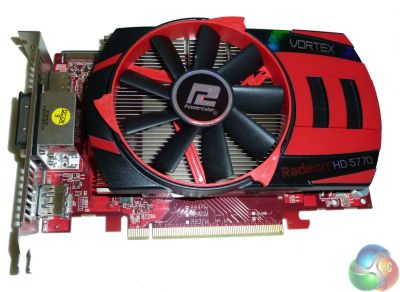 The
Powercolor HD 5770 Vortex
is an overclocked (GPU and memory)
Radeon HD 5770
: GPU=900MHz (ref=850MHz) and memory=1225MHz (ref=1200MHz).
The guys at KitGuru have stressed this HD 5770 with FurMark and here are the results:
1 – Power consumption
KitGuru has measured the power consumption from the VGA card inputs and then the power in the graph is the power consumption of the graphics card. The TDP of a non-overclocked HD 5770 is 108W.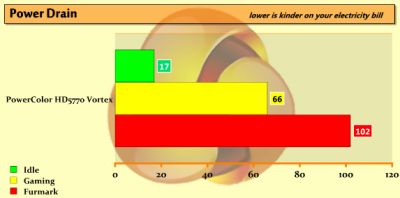 102W under FurMark
2 –
GPU temperature
We measure temperatures with diodes and our Raytek Laser Temp Gun 3i LSRC/MT4 Mini Temp gun for verification. Room ambience in our labs is kept to 25c with air conditioning to ensure accurate results.

74°C under FurMark
And for overclocking fanatics, there is also a temperature graph with manual overclocking settings HERE.
Like the KFA2 model, Powercolor HD 5770 Vortex features a detachable fan for easy dust cleaning: