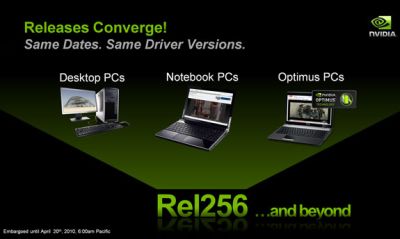 ---
Update (2010.07.20)
WHQL versions have been released:
---
This is the "official" beta graphics driver for the brand new GeForce GTX 460. This supports also all previous GeForce (GeForce 6, 7, 8, 9, 100, 200, 300, and 400-series desktop GPUs as well as ION desktop GPUs). R258.96 automatically install PhysX 9.10.0224 runtimes. R258.96 is an OpenGL 4.0 driver.
Download
In the OpenGL side, R258.96 exposes 233 extensions for a GTX 480 under Win7 64-bit. Compared to R257.15, R256.96 re-adds this extension which, actually, is not a new extension:
WGL_NVX_DX_interop can be used for an OpenGL video player with the video decoding performed by DirectX.
This extension was already included in ForceWare 196.21 and has been removed from ForceWare 197.45 😀
OpenGL extensions exposed by previous NVIDIA drivers are available HERE. A more detailed description of each extension can be found HERE.