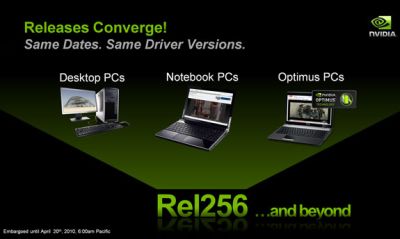 R257.21 + GTX 480 + GPU Caps Viewer
R257.21 is the first public WHQL version of the R256 branch. This driver package supports GeForce 6, 7, 8, 9, 100, 200, 300, and 400-series desktop GPUs as well as ION desktop GPUs. You can download this new display driver here:

Main features of R257.21:
Adds support for Blu-ray 3D with NVIDIA 3D Vision technology.
Increases performance for GeForce GTX 400 Series GPUs in several PC games.
Upgrades PhysX System Software to version 9.10.0223.
Adds support for OpenGL 4.0 for GeForce GTX 400 Series GPUs.
Adds support for CUDA Toolkit 3.1 which includes significant performance increases for double precision math operations.
Adds support for new extreme Antialiasing modes for 3-way SLI PCs, including up to SLI48x AA for GeForce 200 series GPUs and up to SLI96x AA for GeForce GTX 400 series GPUs.
Adds support for a new Quality mode for NVIDIA's Ambient Occlusion control panel feature.
Adds a new NVIDIA Control Panel setup page for SLI and PhysX for ultimate control over multi-gpu configurations.
Adds a new NVIDIA Control Panel feature for ultimate control over CUDA GPUs, allowing the user to effectively choose which GPU will power each CUDA application.
Includes numerous bug fixes.