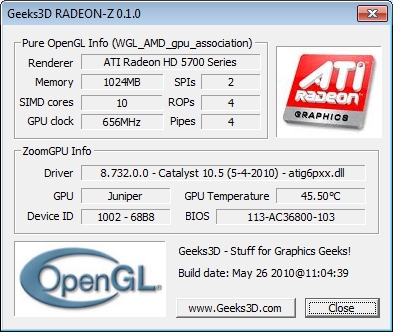 What? A new GPU tool? Nope my friends, don't panic, I'm not going to release another GPU tool. The only purpose of RADEON-Z is to illustrate
how get the memory size in OpenGL
. So if you're interested by this topic, you can read the following tutorial:
[PROGRAMMING TIPS] How to Know the Graphics Memory Size and Usage In OpenGL
.
I don't think this tool will be updated in the future. Maybe, in the best case, its code will be integrated to GPU Caps Viewer.
You can grab RADEON-Z here:
[download#138#image]
Like GPU-Shark, RADEON-Z does not require installation. Just download the file somewhere and launch it.
As its name says it, RADEON-Z works with Radeon-based graphics cards only!