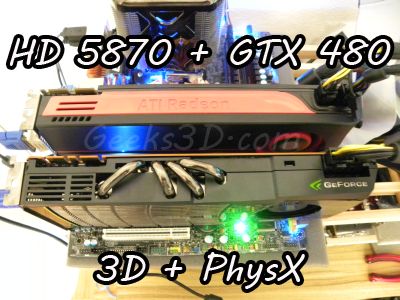 HD 5870 and GTX 480 side by side
Do you remember
this news
? Two years ago, it was possible to run in the same time a Radeon for 3D rendering and a GeForce for PhysX simulations.
But these last times, some bugs, like like this one AND weird phenomenons like the reverse gravity timebomb, have prevented the use of a dedicated GeForce for PhysX when a Radeon is used for 3D graphics rendering.
But in the new NVIDIA graphics drivers R257.15, another weird phenomenon has suddenly fixed everything: now you can use a GeForce for PhysX and a Radeon for graphics in the same time!
Great news my friends especially for Radeon owners. Hybrid PhysX is back!
GenL's quotation (GenL is the author of the PhysX patch):
In Windows XP i've just extended the fake desktop, and on Windows 7 i created one non-extended – that's all i needed to get GPU-PhysX working. And even more surprising – timebomb issue is gone too, at least for its normal time interval (~30 seconds in FluidMark).
Okay let's make a test. In my testbed, I plugged a Radeon HD 5870 with Catalyst 10.5 and a GeForce GTX 480 with R257.15. After having tweaked Win7 desktop to enable GPU PhysX (like said right above and thanks to the video at the end of the post), I launched PhysX FluidMark 1.2.0.
And… THAT WORKS!
The following screenshot is the proof:

And here are the scores: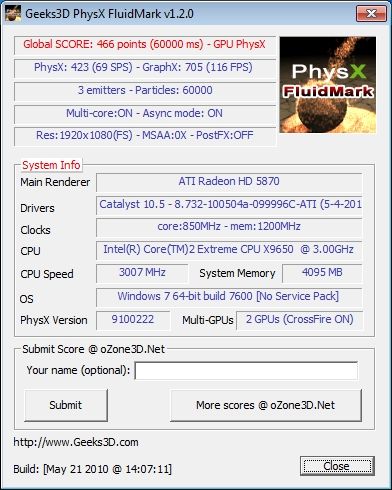 Score for 60'000 particles – HD 5870 and GTX 480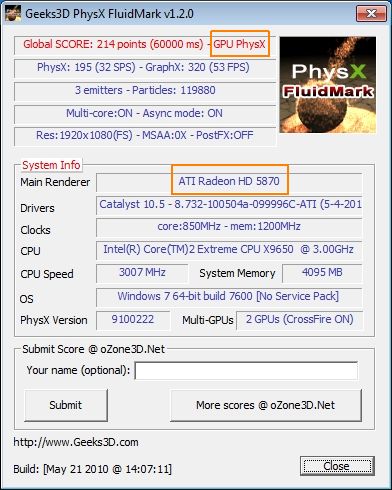 Score for 120'000 particles – HD 5870 and GTX 480
Good job NVIDIA!
Let's hope it's not an error from NVIDIA…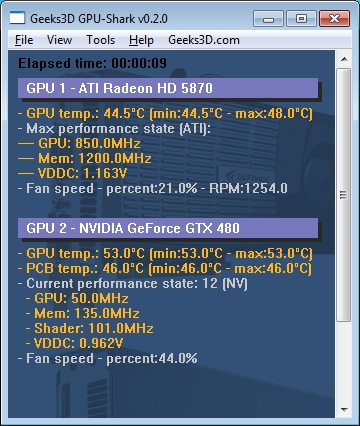 The HD 5870 and GTX 480 together in GPU-Shark (simplfied view)
PhysX on ATI 5870 / GeForce 470GTX – ATI 10.5 / NV 257.15 beta:


[youtube BRikKybcno0]