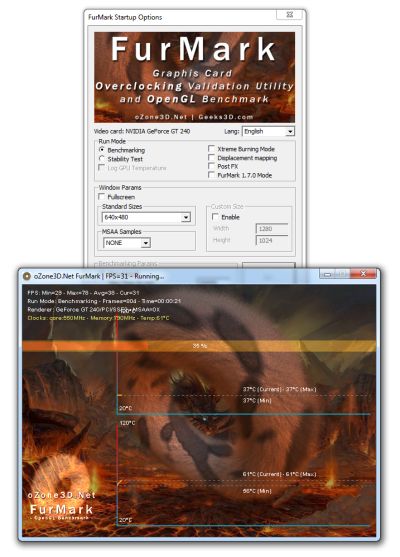 ---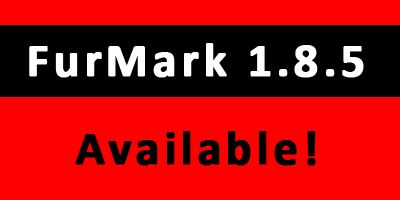 ---
The new version of FurMark is out to terrorize your brand new graphics card!
You can download your copy of FurMark here:
Webmasters: hotlinking is not allowed, please use the post url as download link.


What's new is this version ? Essentially a compatibility mode with FurMark 1.6.x and especially 1.7.x. I noticed that FurMark 1.7.0 is still much downloaded and the main reason is the difference in the scores between version 1.8.x and 1.7.x. I increased the graphics workload / power draw of FurMark 1.8.0 for all new graphics monsters such as HD 5870, HD 5970 or new GTX 480, leading to less FPS and lower scores compared to FurMark 1.7.0.
Here is the changelog of FurMark 1.8.2
New: different scoring web pages for version 1.7.0 and 1.8.2+.
New: option to enable FurMark 1.7.0 compatibility mode.
New: support of latest Radeon HD 5000 and GeForce GTX 400 series.
New: display of GPU and memory clocks (even if GPU-Z is not started).
Change: improved temperature graphs readability.
What? You don't know what is FurMark? FurMark is one of the most used stress test tool for graphics cards. It's an OpenGL-based app that uses fur rendering algorithms to stress and measure the performance of the graphics card. The high power draw required by FurMark puts under pressure the GPU and VRMs (voltage regulator module) of the graphics hardware.
Power consumption, temperatures and sound production of GeForce GTX 480 4-way SLI tested with FurMark:


[youtube 7V13ZGIZgYY]