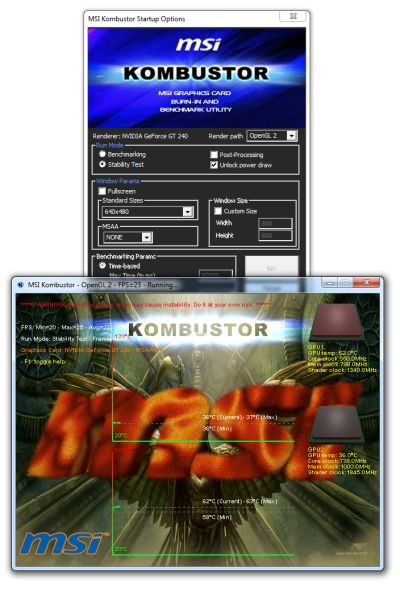 A new version of
Kombustor
, MSI's graphics card stress test tool, is available with the
beta 3
and
beta 4
of MSI Afterburner.
You can download the latest version of Kombustor here:
[download#133#image]
Alternatively, you can download Kombustor 1.0.6 + Afterburner 1.6.0 beta 4 in the same zip package HERE.
Like Afterburner, which is a customized version of RivaTuner, Kombustor is a customized version of FurMark.
Important note: Kombustor 1.0.6 crashes when the multi-GPU version (etqw.exe) is launched on a Radeon card ( … hummm… 😀 ) AND when the Post Processing is checked. This bug is fixed in the version 1.0.7 and I'll give more details on this bug when MSI will release the version 1.0.7. This bug has been reported in this thread.