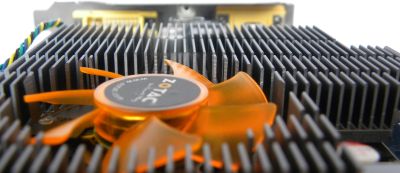 I recently received a Zotac GeForce GT 240 and I was surprised to discover that this model of GeForce exposes more OpenGL extensions that a GeForce GTX 2xx (GTX 260 or GTX 280).
My test bed runs with Windows 7 64-bit and the graphics drivers used are the R197.15.
A GTX 2xx exposes 212 OpenGL extensions (the complete list is available HERE).
After a quick inspection, it turns out that these extra extensions are OpenGL 4.0 ones. Check out this post for more details on new OpenGL 4.0 extensions.
Here are the 6 extra OpenGL extensions exposed by the GT 240: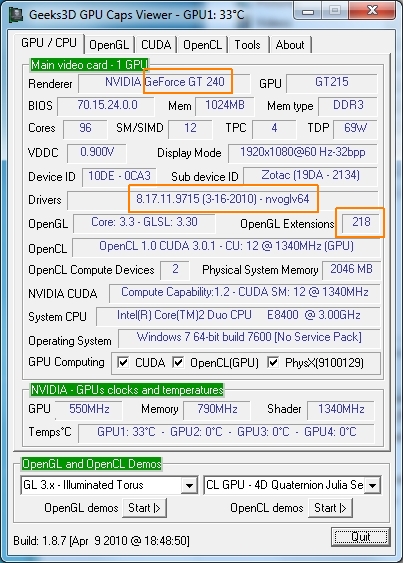 Why the GT 240 exposes OpenGL 4.0 extensions and not other high end cards such as the GTX 260, GTX 280 or GTX 295 ? I have currently no answer…
---
Update (2010.04.13)
The difference comes from the GPU architecture: the GeForce GT 240 is a DX10.1 GPU while GTX 2xx are based on a DX10 GPU.
---
Anyway, the GeForce GT 240 exposes a total of 218 OpenGL extensions. Here are sone additional information from GPU Caps Viewer:
– OpenGL Renderer: GeForce GT 240/PCI/SSE2
– Drivers Version: 8.17.11.9715 (3-16-2010) – nvoglv64
– Video Memory Size: 1024 MB
– Video Memory Type: DDR3
– Clocks level #0: Core: 135MHz – Memory: 135MHz – Shader: 270MHz
– Clocks level #1: Core: 405MHz – Memory: 324MHz – Shader: 810MHz
– Clocks level #2: Core: 550MHz – Memory: 790MHz – Shader: 1340MHz
– BIOS String: 70.15.24.0.0
– OpenGL Version: 3.3.0
– GLSL (OpenGL Shading Language) Version: 3.30 NVIDIA via Cg compiler
– CUDA Compute Capability: 1.2