This new ulta high end product by EVGA targets the owners of the Intel Xeon 5500 or 5600 6-Core CPU, especially, the owners of two Xeon CPUs 😉
The presence of multiple QPI (QuickPath Interconnect) links in Xeon CPUs, allows a CPU to CPU connection and a CPU to chipset connection: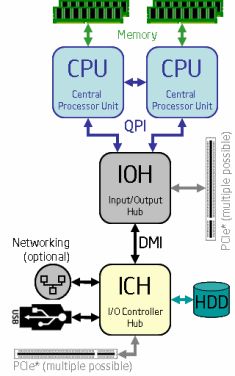 (thanks to
Dave
for the clarification 😉 )
The EVGA Classified SR-2 (Super Record 2) motherboard, powered by Intel's 5520 chipset, features two LGA 1366 CPU sockets, twelve DDR3 memory slots (up to 48GB of RAM…), two SATA III 6.0GB/s ports, six SATA II ports, two USB 3.0 ports and 10 USB 2.0 ports. The price of this gem is around $600US…
Two 6-cores CPU mean 12 real cores. Now if you enable Intel HyperThreading technology, the number of cores jumps to 24. Wow… 24 cores, 24 real hardware threads… Cool! My forthcoming PhysX FluidMark will love it for sure!!
More information about EVGA Classified SR-2 HERE and HERE.