[ Back to Geeks3D.com ]
GeeXLab
Laboratory for Real Time 3D Programming (prototyping and demos)
OpenGL, Lua, Python, GLSL,
PhysX and more...
What is GeeXLab?
GeeXLab (or GXL) is a new tool for fast real time 3D prototyping and coding. It's based on widely used standards such as XML, Lua, Python or OpenGL. GeeXLab has been designed for developers (from newbies to confirmed) and technical 3D artists.

GeeXLab is particularly well suited to quickly create and prototype real time 3D solutions: demos, benchmarks, little applications or games. It's also a fantastic tool to start learning programming and real time 3D programming.

GeeXLab can be used as a sandbox for your real time 3D experimentations.

A more detailed presentation of GeeXLab is available here: GeeXLab: Laboratory for Real Time 3D Learning and Experiments.

GeeXLab is available in two editions: Free and Pro. GeeXLab Free is only intended for home and non-commercial use. It is provided free of charge, but its functionalities are limited (don't panic, these limitations are very small!). If you are you looking for more features, functionalities and flexibility that the Free Edition does not offer, upgrade to the Pro Edition.

The SDK (Software Development Kit) of GeeXLab's engine is also available for people wishing to integrate GeeXLab engine in their applications. For more information about the SDK, please visit the following page: GeeXLab SDK.

For the latest news about GeeXLab, articles, tutorials and demos, please visit the following links:
Download GeeXLab
GeeXLab
Left-click to download

Free Edition
Version: 0.4.0 - Release date: May 11, 2012

Available for Windows XP, Vista and Seven
GeeXLab 0.4.0 complete story is available HERE.
The complete changelog is available HERE.
Additional GeeXLab Components
GeeXLab previous versions
GeeXLab Requirements
In order to use GeeXLab, you must have a Windows (XP, Vista, Seven) operating system and an OpenGL 2 capable graphics card. The following cards are good choices:
NVIDIA GeForce 6, 7, 8, 9
NVIDIA G100, GT120, 130, 220, GTS 150, GTS 250
NVIDIA GeForce GTX 260 and higher, any ION based products
NVIDIA Quadro FX 370, 570, 1700, 3700, 4600, 4700x2, 4800, 5600, 5800, Quadro VX200, Quadro CX
ATI Radeon X 700, 800, 1000 series
ATI Radeon HD 2000, 3000, 4000, 5000 series
In case of doubt, you can use GPU Caps Viewer to get the OpenGL version supported by your graphics adapter.
GeeXLab Online Help
GeeXLab programming guide is divided in two main sides: XML and scripting.
Articles and Tutorials
Samples Screenshots

Shadow Mapping demo.




PhysX demo.




Multiple AVI demo.




Bloom Post FX demo




Python - NetworkX demo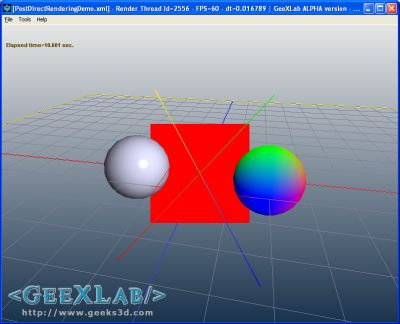 Python - PyOPenGL demo
Videos